Dutch Dressage News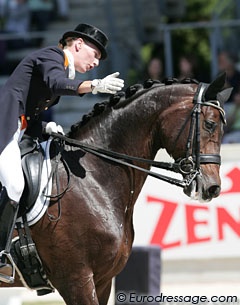 Dutch WEG team gold medal winning Imke Schellekens-Bartels announced that she will not be vying for a Dutch team spot for the 2011 European Dressage Championships in Rotterdam, The Netherlands, 17 - 21 August 2011. The Smarius Family's 17-year old mare Sunrise is not yet fit.
The Hanoverian mare Sunrise (by Singular Joter x Werther) injured herself in a lunging accident in December 2010. Though Imke had hoped to make her come back during the outdoor season, the injury has been taking longer to heal.
A recent check-up with veterinarian Jef Desmedt last week showed that the mare has not sufficiently recovered from her injury to be put in full training. This means that Sunrise will not competing this summer and will be unable to fulfil the Dutch Equestrian Federation qualification standard of achieving an A-team score within 9 months of their last show. Imke will therefore lose her A-team spot.
"Of course this is such a pity that we can't compete at the European Championships," said Imke. "Sunrise has been a fixed member of the Dutch team for the past five years. Considering the severity of the injury I saw this coming. I was more bummed out right after she sustained the injury in that small accident. It was so stupid. Now I just only want to go back to work with her."
"Sunrise is recovering, but more slowly than expected," Schellekens added. "Fortunately the prognosis for full recovery is positive, but it is unclear how long this will take."
Photo © Astrid Appels
Related Links
Imke Schellekens' Sunrise to Make Come Back in the Spring
Imke Schellekens' Sunrise Injured in Lunging Accident