2011 European Junior and Young Riders Championships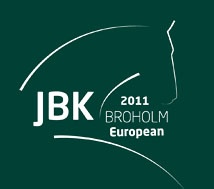 It looks as though there will be a record-breaking attendance at 2011 Ecco FEI European Dressage Championships for Young Riders and Juniors 2011, held at Broholm Castle in Gudme, Denmark, on 19 - 24 July 2011. "At least, if one looks at the preliminary entries," said show organizer JBK Horse Shows.
Traditionally strong dressage-nations like Germany and The Netherlands have – as expected - announced their participation, but also Russia, Greece and Turkey wish to come to Denmark to fight for European honour.
Apart from these, nations like Austria, Belgium, Czeck Republic, Spain, Finland, France, Breat Britain, Sweden, Norway, Poland, Portugal, Hungary and Italy have reported back to JBK Horse Shows that they aim at participating.
Every nation will probably muster a team of both junior and young riders, of 3-4 riders each. The beautiful competition-site will be bustling with activity, since most participants will be bringing a groom, parents and a coach. And of course a coach for each nation, and, perhaps a team veterinarian.
Related Link
Eurodressage Coverage of the 2011 European Junior/Young Riders Championships