KWPN Breeding News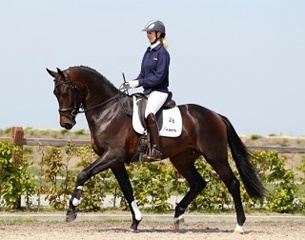 Don Tango became the highest scoring dressage horses of the 2011 KWPN Spring Stallion Performance Testing, which concluded today at De Driehoekshoeve in Stegeren, The Netherlands. Four dressage stallions in total received the green card
to be allowed to breed for the KWPN Studbook.
Don Tango (by Contango x Jazz) was the top horse of the collection with 8s for walk and canter and 8,5 for trot. He also got a 9 for rideability,  temperament, self carriage and balance and totalled 83,5 points. The stallion does, however, have a class C X-ray for osteochondrosis on the right hock but the stallion licensing committee believes the colt has enough qualities to compensate that. 
Dorado (by Krack C x Rousseau) finished second with 82,5 points in total. He got a 7,5 for suppleness, 8 for trot and self carriage, 8,5 for walk, canter and rideability. The licensing committee recommended this stallion for mares who have enough "blood" in their pedigree and who are built uphill.
Diego (by Negro x Don Gregory) received 79,5 points. The black stallion scored solid 8s for walk, trot, canter, suppleness and self carriage, and 7.5 for rideability. Diego is recommended to be bred to mares with sufficient "blood" and a good self carriage. His expected fertility is considered mediocre.
Dream Boy (by Vivaldi x Ferro) scored 7,5 for walk, trot and suppleness, 8 for self carriage, rideability, and potential and 8.5 for canter. He totalled 78,5 points. Dream Boy is recommended to improve the canter and conformation. He's recommended for large-framed mares.
Dance Royal (by Wynton x Flemmingh) showed a good canter and self carriage but there were a veterinary remark on the stallion's X-rays and the licensing committee decided that his performance in the testing was not good enough to compensate this deficiency. He had scored 75,5 points in total
Photo courtesy De Dalhoeve
Related Links
Ton de Kok Rides Five Remaining KWPN Performance Tested Stallions
Dude Leaves 2011 KWPN Spring Stallion Performance Testing
Four Stallions Assessed by Van der Meer at 2011 KWPN Spring Stallion Testing
Doi Doi Doi Rejected from KWPN Licensing Process after Poor X-ray