2011 Preis der Besten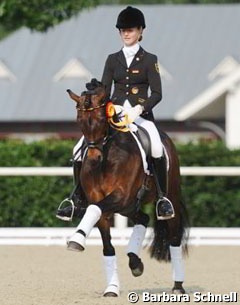 Grete Linnemann, Lena Schütte and Louisa Lüttgen became the grand champions of the 2011 Preis der Besten in Warendorf, Germany, on 20 - 22 May 2011. This top-level competition serves as an important qualifier for the German teams that will be selected for the 2011 European Pony, Junior and Young Riders Championships.
As tradition dictates it, scores at the Preis der Besten are heavily inflated, especially in the pony division, and it was no different this year. Fourteen-year old Grete Linnemann, who was a member of the 2010 German team with White Gold B, reigned surpreme on her gorgeous bay German Reitpony mare Cinderella M (by Constantin x Donnerhall). Linnenmann scored staggering marks of 78.241 in the first round and 79.298 in the Finals' test to capture the overall title. She beat 2010 European Pony Champion Jessica Krieg on the palomino stallion Danilo (by Dornik B). Krieg twice finished second on her stallion with scores of 75.463% and 76.491%. Lena Charlotte Walterscheidt and the Baden Wurttemberger bred bay gelding Lord Champion (by Le Champion) got bronze with two third-placing scores of 72.222% and 73.070%. 
"This was really something very pleasing what those two showed. You can see that on the scores," said German pony team trainer Cornelia Endres. "The way Grete Linnemann rode those 78 and 79 % scores was out of this world. She didn't lose one single point in the test
For 18-year old Lena Schütte the 2011 Preis der Besten couldn't have gone better. Aboard the 7-year old Hanoverian Eloy (by Earl) scored winning marks of 72.378% in round one and 71.105% in the finals. Schütte faced some tough competition from Leonie Richter who also competed in the pony division but saddled her home-bred Romanowa (by Rohdiamant) for the junior classes. This pair got  71.189% in the first round and 70.947% in the second to place second twice. Mannheim based 17-year old Vivien Niemann and her 9-year old Hanoverian gelding Cipillini (by Compliment x Western Star) slotted in third overall after finishing sixth in the qualification round (66.649%) and third in the finals (70.158%). 
"Lena has improved mentally and now it also pays off that she has given the young stallion an extra year," said youth riders team trainer Hans Heinrich Meyer zu Strohen. "Leonie demonstrated refined and modern dressage riding. She was already successful in the young horse classes in the spring and is riding ponies at the same time. In this family they are really optimalizing the transition to horses. Vivien rode really correctly with clear highlights in canter."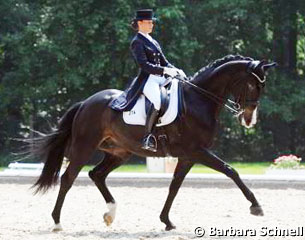 In the absence of Germany's top scoring young rider of the moment, Sanneke Rothenberger (who was excused as she had to finish her final exams last Friday), the other German young riders put in a very hard fight and the rankings in both rounds differed considerably. Louisa Luttgen positioned herself in the overall first place aboard her Hanoverian gelding Habitus (by Hohenstein). The pair won the first round with 73.421% but finished only fifth in the finals with 68,947%. Her overall mark, however, was still the highest and 20-year old Kerpen based Luttgen got the gold medal. Sophie Holkenbrink and the licensed breeding stallion Show Star (by Sandro Hit x Feinbrand) earned silver. They were eighth in round 1 (67.000%) but won the finals (73.842%). Bronze went to Annabel Frenzen on her big dark bay Holsteiner Cristobal. This duo has been focusing much on the Grand Prix work as they are competing in the Piaff Forderpreis circuit and that work has paid off for the "easier" young riders' division. The 20-year old Frenzen placed second in the first test (69.211%) and third in the finals (69.263%).
Photos © Barbara Schnell - More pictures in the IMAGE GALLERY below
Related Links
Scores 2011 Preis der Besten
Krieg, Ruhl, Plewa, Rothenberger Take the Blue at 2011 Preis der Besten Qualifier in Kronberg
Photo Report: Krieg, de Ridder and Lutkemeier 2010 Preis der Besten Champions