German Dressage News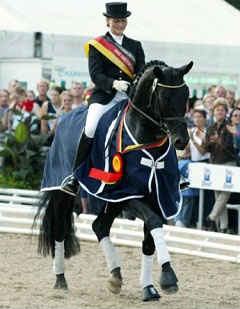 Following the positive response to the seminar two years ago, the German Equestrian Federation would like to once again send out invitations for an International dressage seminar in Warendorf taking place 3 - 6 September 2011. The main focus of the FEI endorsed seminar will be the judging and assessment of young dressage horses.
The seminar is supposed to be for judges, trainers, stewards and anyone who is interested in dressage. As in 2009 the first seminar days will be during the "Bundeschaminonate" (German Championships for Young horses). The seminar participants will have the opportunity here to watch the competitions for four year old stallions and for five and six year old dressage horses. The different rides will be commentated on for the participants and then discussed within the seminar in the evening.
During the morning of the third day the main focus will be laid on the theory. After a retrospective view of the "Bundeschampionate" from the initiators of the seminar, Dr. Dietrich Plewa (Rheinzabern), Dr. Dieter Schüle (Ansbach) and Christoph Hess (Warendorf), the focus will be drawn to the breeding of horses by Dr. Klaus Miesner (Warendorf), managing director of German Equestrian Breeding department from the German point of view.
Katrin Burger (Assistant breeding manager of both Oldenburg breeding societies), a very successful participant of the "Bundeschampionate" for many years, (she won the Championship with her four year old stallion "French Kiss" in 2002) will draw the attention on the German breeding of dressage horses. Followed by Chris Hector who will have a look from the "outside" at the European horse breeding from an Australian point of view.
Fellow (Reitmeister) Martin Plewa (Warendorf) will also give a report about "tack", Richard Hinrichs (Wedemark), from the German Association of classical baroque riding will explain in theory and also with practical demonstrations, the influence of baroque dressage in the International dressage sport and Prof. Peter Stadler (Tierärtzliche Hochschule Hannover) will look at the riding scale from a veterinarian point of view.
On Monday afternoon and Tuesday morning the focus will be drawn to practical demonstrations just like in 2009. Highlighted will be the Grand Prix for Young Dressage horses using the TESCH Inkasso Cup as an example (a dressage series for the best young Grand Prix horses in Germany) which has been invented in 2007 by the German Equestrian Federation (FN) as a pilot project. The following people will show the participants through the practical demonstrations: National trainer Holger Schmezer (Verden), Jonny Hilberath (Scheeßel), Jürgen Koschel (Hagen a.T.W.) and Hans-Heinrich Meyer zu Strohen (Hoya) and his wife Katrin Meyer zu Strohen. Riders for the demonstrations will be Uta Gräf (Kirchheimboland) and Dorothee Schneider (Framersheim).
Both, the theoretical and practical part, take place in the National Equestrian Training centre (Bundesleistungszentrum) of the DOKR (German Olympic Committee for Equestrian Sports) in Warendorf. The participation fee is 300 Euros including the entrance charge for the "Bundeschampionate", bus shuttle on all four days to the seminar hotel "Hotel Steigenberger" (Osnabrück), lunch on Monday and Tuesday as well as the dinner on Monday night. Final enrolment day for the dressage seminar is the 15th of June 2011. Hb
Information and enrolment: German Equestrian Federation, Carsten Rotermund, crotermund@fn-dokr.de , +49 (0)2581-6362-186, Fax: +49 (0)2581-6362-226
Related Links
Inspiring Xenophon Seminar in Münster
Strengthening Dressage Sport Through Open Discussion at 2011 German Dressage Judges Seminar
Mastering Good Horsemanship Seminar During 2011 Festival of the Horse CDI in Burbank