Danish Dressage News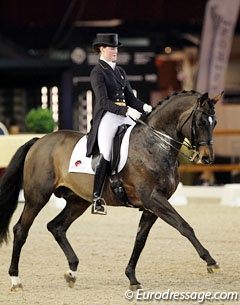 Following the Danish Ecco qualification show in Broholm, Denmark, Danish youth riders' trainer Jon D. Pedersen has long listed the Danish Junior and Young Riders for the 2011 teams that will compete at the European Championships held in Broholm, Denmark, 20 - 24 July 2011.
In a month's time the first big Scandinavian championship takes place in Middelfart, Denmark, where the Nordic Baltic Championships will be hosted during the last weekend of June 2011. The long list also carries the names of the riders from which two Danish teams for this championship will be picked.
Long List Danish Junior Riders:
Isabella Holtze - Hevi's Futuro
Kathrine Sumborg Christensen - Rohmario
Nanna Skodborg Merrald - So What
Nanna Bronee Madsen - Skjoldsgaard Monte Vo
Cecilie Lyndrup - Lambada
Anna Zibrandtsen - Gørklintgårds Domello
Long Listed Danish Young Riders:
Cathrine Dufour - Aithon or Atterupgaards Cassidy
Carina Nevermann Torup - Kafelnikov or Blue Boy
Camilla Orloff - Utah
Simone Ahlers Pedersen - Cavaler
Karina Holt Andersen - Hot Shot
Nanna Skodborg Merrald - Millibar
Rikke Bøllingtoft - Finale
"To those who have not been selected on the long list I want to underline that to belong to the junior and young riders top it is important to stay sharp and continue to look for improvement," said Jon Pedersen and senior Chef d'equipe Kimi Nielsen. "Anything can happen and everything happens on the edge. So I want to recommend you to ride as many good shows as possible in the near future."
The long listed riders are invited to participate in a seminar on 26 June 2011 at the Middelfart equestrian centre where they will ride their test as well as be judged on videotape. A vet exam of the horses will take place there as well, just to ensure that all horses are fit and healthy for the Nordic Championships.
Photo © Astrid Appels
Related Links
Danish Junior and Young Riders Nominated for 2011 Long List