What's Happening in the Dressage World?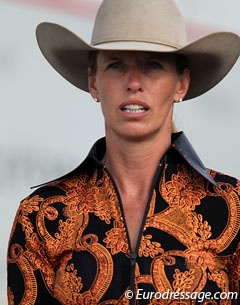 In an interview with Jacob Melissen Anky van Grunsven talked about Salinero and how his injury automatically seemed to have resulted into a retirement. "I actually planned on retiring Salinero, but now I believe that he's going really well
and I want to ride him at a few shows again. The European Championships in Rotterdam are not an option. I had decided that the World Equestrian Games (in Kentucky) would have been his final big championship and I'm sticking to that. The only reason why I still want to do a few shows with him is because he's fit, he enjoys it and I have fun at it. I hope that there is a possibility to retire him next at Indoor Brabant."
Can you keep a straight face with the video in the top right corner?
The FEI has signed a new four-year contract with IMG Media (IMG), a division of the global sports, fashion and media company IMG Worldwide, that will ensure global distribution of the FEI's major equestrian events to television audiences worldwide. The contract runs through to the end of 2014. The renewed agreement covers the distribution of broadcast rights to FEI flagship events such as the  World Equestrian Games 2014 , the  European Championships 2011 and 2013 in the Olympic Disciplines of Jumping, Dressage and Eventing and the finals of the  World Cup Jumping and Dressage through to 2014 outside EBU territories.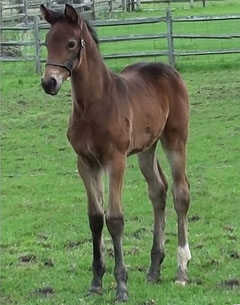 Gypsy Woods Farms' sensational Westfalian Grand Prix mare Rocher (by Rolls Royce) has become the proud mom of her first embryo transfer filly by KWPN licensing champion Rousseau. Rocher was a top international performer under George Williams from 2002 until her retirement in 2009. She earned the title USDF Grand Prix Horse of the Year in 2003. She won the GP and GP Freestyles at Dressage at Devon in 2002, 2003 AND 2005! The filly is called Rocket and her surrogate mom is a large draft.
In the wake of Doi Doi Doi's eye-brow raising change in X-rays, owner Joop van Uytert reacted to Horses.nl about the incident. "The selection committee noticed a clear difference with the X-rays made last year and I saw them last week with my own eyes. Everybody knows such things can happen," said van Uytert.  "I asked the KWPN to be open and transparent about it in their press release and that's what happened." Doi Doi Doi (by Vivaldi x Gribaldi) was sent home from the KWPN stallion performance testing after it appeared that he had totally different X-rays on one leg with the ones taken before the licensing. The stallion was sent home as he has a class III on a navicular bone.
Horses.nl also posted the news that Barbara and Mischa Koot's former FEI horse Controversy (by Pretendent x Orkaan) has passed away at age 27. "Controvery was not always easy, but in the end he was a great horse with a golden character," said Koot. Under Barbara the bay gelding won team gold and individual silver at the European Young Riders Championships in Helsinki. Mischa Koot competed "Harry" up to Grand Prix level.
Laurens van Lieren is succeeding Tineke Bartels as Dressage Show Director at the CHIO Rotterdam. Bartels contacted Van Lieren to ask if he was interested in the position, which will open up after the 2011 European Championships. "I'm now doing a sort of internship with Tineke who is teaching me what the job entails," Van Lieren told De Hoefslag. "It's amazing how much is involved. Rotterdam wants to rejuvinate and give a new impuls. I'm getting old enough now to handle this, and I've always been stubborn. I'm not so much actively competing at international level so I have time."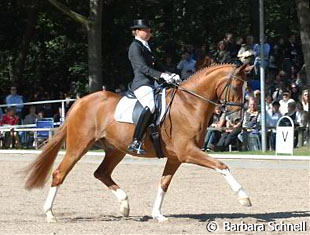 The truth is out there and it will prevail. Hubertus Schmidt's misleading statement to the German media that Donnelly was sold to the U.S.A. was valsified upon the horse's first competition under a new rider. German horse dealer and trainer Norbert van Laak competed Donnelly (by Donnerruf) for his new owner, Brazilian Dr. Jorge de la Roche, at the national show in Redefin. The pair scored 64.184 % in the Grand Prix to finish seventh. Photos of the brand new pair in competition can be seen here.
The Totilas craze has hit Wiesbaden as well. Since the announcement that Totilas would be competing at Wiesbaden, show director Jochen Kettner decided to build extra tribunes to the main show ring to seat 600 extra people! The CDI Wiesbaden takes place on 10 - 13 June 2011.
The 23-year old Swedish Grand Prix rider Nina Hofmann has a new horse to ride. It concerns the 12-year old German bred mare Duracell (by Don Schufro). The liver chestnut mare is originally from Finland, but Hofmann test-rode her in Sweden. The mare passed the vet check and is now in Germany where Hofmann's coach Nuno Palma e Santos is riding her, as Nina is undergoing foot surgery. She will be in a cast for eight weeks but should be back for the CDIO Aachen.
A special Irish bred dressage foal has been born. Yvette Truesdale paired up her two international FEI horses, mare Wishful Thinking (Weltmeyer x Wendepunkt) and Dutch warmblood stallion Jaywalker (Nimmerdor x Maykel). With the now 20-year old Jaywalker Truesdale competed at small tour level at the 1999 CDI Zwolle and they were national champions together. Wishful Thinking is a 16 year old Hanoverian which shei competed at small tour †internationally.  "I bought her from John Reid from Northern Ireland as a 5-year old," Truesdale told Eurodressage. "She is out of John's mare Weijshe who also produced Accolade who i represented Ireland with at WEG Rome 1998, WEG Jerez 2002 and 3 European Championships (Arnhem 1999, Verden 2001 and Hickstead 2003). I always planned to have a foal from these 2 special horses and have waited a long time for this one as Wish was in foal to Jay last year and lost a very beautiful bay filly at birth.  I am delighted with this colt."
Teresa Fontan, equestrian sports director at Dehese Montenmedio which hosts the annual Sunshine Tour, has resigned from her position. "I will stay in the job of events organiser but on an independent basis," Fontan explained. "It has been 11 years of an exhausting job and I keep with me all the best moments, friends, all people who worked with me on the shows, clients, etc. I thank all of them."