2011 Bundeschampionate Qualifiers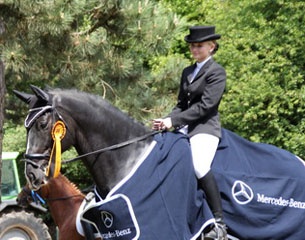 Siena and Stockholm surfaced at the top at the Baden Wurttemberger selection trial in Böblingen, Germany, 13 - 15 May 2011. Organized by Dieter Zimmermann, the Böblingen qualifier only produced two horses that were able to score higher than 8.0 and qualify for the Finals in Warendorf, held the first week of September 2011.
Dr. Susann Konrad saddled the Oldenburg mare Siena (by Sandro Hit x Lorentin) for the 5-year old dressage test and scored 8.10 to go home with the trophy. She pushed Patrick Thompson on the dark bay Marback state stud stallion Little Charly (by Lord Loxley x Florestan) to a second place with 7.7. German based Canadian Christilot Boylen ranked third aboard the Hanoverian mare Florencia (by Florencio x Weltmeyer) on 7.5.
In the 6-year old division it was Dorothee Schneider who wielded the axe of power. She placed first with the Bavarian stallion Stockholm (by Stedinger x Silvio I) on 8.3 and second with the Oldenburg gelding Del Primo (by Don Primero x Figaro) with 7.7. Friedrich Steisslinger slotted in third aboard his Hanoverian mare Havanna Negra (by Hohenstein x Wolkenstein II) with 7.60. Boylen's Canadian student Belinda Trussell was less fortunate. She retired from her ride on Robyn Eames' Hanoverian bred Biasini (by Belissimo M x Davignon I) in that test
Results
5-year old Dressage Horses
1. Susann Konrad  - Siena  - 8.10
2. Patrick Thompson - Little Charly - 7.70   
3. Christilot Boylen Hansen - Florencia - 7.50     
4. Pieter van der Raadt - First Lady - 7.40     
5. Anica Eckstein-Unger - Devina - 7.10     
5. Meike Lang - Wilander R - 7.10     
7. Janine Kruszynski - Martini Bianco - 6.90     
8. Meike Lang - Kowalski - 6.80     
9. Miriam Schüle - Darius Primero - 6.70     
Andreas Fessler - Renaldo FB - RET
6-year old Dressage Horses
1. Dorothee Schneider - Stockholm - 8.30     
2. Dorothee Schneider - Del Primo - 7.70     
3. Friedrich Steisslinger - Havanna Negra - 7.60
4. Stephanie Carras  - Daktari - 7.40      
5. Bärbel Eppinger - Roy - 6.90     
6. Franz Jun. Semler - Rosenstolz - 6.70     
Belinda Trussel - Biasini - RET
Back to the 2011 Bundeschampionate Index