2011 New Zealand Horse of the Year Show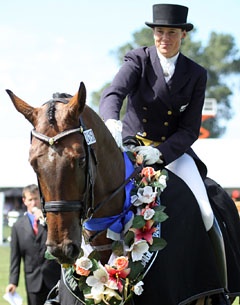 She is widely acknowledged as one of the hardest working riders in the sport and it has paid off. Taranaki based Vanessa Way won the Grand Prix Horse of the Year Title with her self trained horse, KH Arvan at the 2011 New Zealand Horse of the Year Show in Hastings, New Zealand, 18 - 20 March 2011.
It was a hugely successful week for the fulltime equestrian. She also won the level 4 Horse of the Year title with Arawn and was Reserve Champion in Level 3 with KH Allandro.
Way and the 14-year old NZ bred Arvan (by Hanoverian stallion Anamour x Dynamit) have been successful all the way up through the grades – and now in their second season at Grand Prix the quality work is coming through and impressing.
With a fantastic win in yesterday's Grand Prix test for 67% and the first step towards qualifying for the 2012 Olympic Games, today's musical freestyle test wasn't up to the same quality as the Grand Prix, but it was good enough to take second place - and secure the overall Horse of the Year title.
"It's just awesome," says Way. "Horse of the Year is my favourite show and to take this Grand Prix title on a horse I have trained all the way is really special.
"I'm a little disappointed with my musical – he just died on me in there and it was frustrating to miss my one times, but overall he has coped really well."
Plagued through their career by Arvan's tendancy to neigh out during his test, this week was no exception. However, Way has a plan to hopefully put an end to this.
"We're definitely going to Australia now, to compete at the Sydney CDI next month. That will be the first time he has travelled away by himself without his stablemates, so I'm hoping that will sort it out."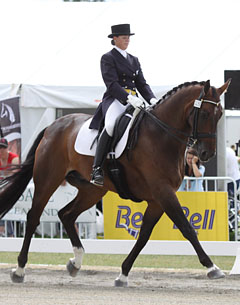 Arvan's well established passage and technically correct piaffe has kept his scores high at Horse of the Year – "At last," says Way. "It's taken a while for us to start getting the quality work we get at home and there's still plenty more in the tank."
Olympian Louisa Hill won today's Musical Freestyle with her starry Bates Antonello – the international potential of this pair also obvious.
"I'm a little bit blown away," says Hill. "It's just our first season at this level, so it was more a matter of running on three cylinders and letting him get his head around it all, so to take the win is such a thrill. He is a wonderful horse and surprises me every day."
The win also put Louisa in the line-up as Horse of the Year Reserve Champion, just ahead of Penny Castle and Gymstar One, another combination who impressed at this level.
International judge Mary Seefried expressed her delight at seeing how the level has improved since she last visited New Zealand two years ago.

Horse of the Year Grand Prix Champion: Vanessa Way (Taranaki), KH Arvan
Reserve Champion: Louisa Hill (Auckland), Bates Antonello
Related Links
Scores 2011 CDI Hastings
Kelly Van Dyk Wins Young Riders' Title at 2011 New Zealand Horse of the Year Show
Angela Fergusson wins New Zealand Horse of the Year Title over Experienced Riders