2008 New Zealand Horse of the Year Show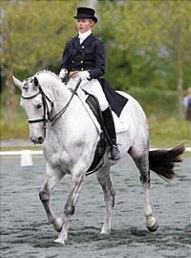 Angela Fergusson's trip up from New Zealand's South Island may not have gone smoothly, but it has netted a dream result. On Sunday March 9, 2008, the relative newcomer to Grand Prix took New Zealand's biggest ever dressage prize purse ($10,000)
in the Musical Freestyle class – and walked away with the Horse of the Year 2008 title.
It is an astonishing result considering this is her first season at Grand Prix and she has produced such sound results against seasoned professionals like former Olympian Kallista Field (Pahiatua), Bill Noble (Waingaro) and Jody Hartstone (Raglan). It was expected one of the trio would win the overall title.
However riding her supremely elegant grey New Zealand bred Trakehner mare Monique III (by Falkensee x Polarschnee) , Angela's polished performances secured both the overall and the kur title.
It was a dream result following a nightmare test. In the big atmosphere main oval, with hundreds of spectators, Angela's music ground to a halt just minutes into her final crucial test – the prestigious CDI*** FEI Grand Prix Musical Freestyle with a total prize pool of $30,000; the richest in the history of Australasian dressage.
To the sound of collective groans from the packed audience, she calmly walked her mare around while waiting for a replacement copy of her music, before continuing on, to complete her test unruffled and serene, and post the winning score of 69.350.
The crowd erupted into cheers when the score was announced, their hearts clearly going out to this petite rider and her charming mare.
It was a performance which captured the hearts of all watching and is hard to imagine any other combination waiting so quietly, before proceeding with the test.
"It was a bit of bad luck," said Fergusson, "but there was no point getting upset about it.
"I'm just so proud of how my mare handled it. She actually loves the atmosphere in there – the more people watching her the better!"
All eyes were certainly on the pair. With the announcement that her score remained unbeaten at the end of the class, Angela threw her arms around her mare in emotion.
"It's been a pretty amazing time," she said. "My goal this season has just been to keep my horse happy in her work and try and get established at Grand Prix. This is just the most incredible result."
A second place in the FEI Grand Prix B on Saturday was enough to net Angela the overall Horse of the Year title.
Once again, Jody Hartstone had to settle for the role of bridesmaid with her lovely stallion Landioso, who notched up many adoring fans throughout the show.
In third place overall was Cambridge rider Charlott Bayliss and her black gelding, All Black II, who performed solid consistent tests throughout the show, but was clearly tired on the last day, most uncharacteristic for him. However this is a super result for the pair who have worked hard to establish themselves at Grand Prix.
Titleholder Bill Noble and Vincent St James had to settle for fourth, but losing his title was the last thing on Bill's mind. His second Grand Prix horse, BJK Concorde, was sick with a dangerously high temperature and receiving veterinary attention, as Bill anxiously completed his kur test on Vinnie.
Fortunately by the end of the day, BJK Concorde showed signs of improvement, although Noble was advised not to travel him home immediately.
Fifth overall was Karen Anderson and her ever reliable and charming Komplete Kaos, followed by Joanna York and Kiteroa Kingston (6); Sheena Ross and Glenbrae Ivanhoe (7); Bill Noble and BJK Concorde (8); Vanessa Way and Winters Realm (9); Jody Harstone and Donnerwind 5 (10); Jenny Scotter and JK L'Amour (11); Scott McKenna and Aachenbach (12) and Kallista Field and Soda (13). This final pair did not ride a kur test, so received no points towards the final mark.  
Results
Grand Prix
1. Jody Hartstone - Landioso - 63.208
2. Angela Fergusson - Monique III - 62.833
3. Charlott Bayliss - All Black - 60.583
4. Karen Anderson - Komplete Kaos - 59.250
5. Sheena Ross - Glenbrae Ivanhoe - 58.792
6. Joanna York - Kiterao Kingston - 58.708
7. Vanessa Way - Winters Realm - 57.250
8. Bill Noble - BJK Concorde - 56.792
9. Bill Noble - Vincent St James - 56.167
10. Jody Hartstone - Donnerwind - 56.125
11. Scott McKenna - Achenbach - 55.500
12. Jenny Scotter - JK L'Amour - 55.292
13. Kallista Field - Soda - 53.625
Grand Prix Kur to Music
1. Angela Fergusson - Monique III - 69.350
2. Bill Noble - Vincent St James - 66.800
3. Jody Hartstone - Landioso - 65.950
4. Charlott Bayliss - All Black II - 63.600
5. Joanna York - Kiteroa Kingston - 62.900
6. Karen Anderson - Komplete Kaos - 62.650
7. Sheena Ross - Glenbrae Ivanhoe - 62.600
8. Vanessa Way - Winters Realm - 59.900
9. Jenny Scotter - JK L'Amour - 59.450
10. Scott McKenna - Achenbach - 56.150
2008 New Zealand Horse of the Year
1. Angela Fergusson - Monique III - 62.833 - 69.35
2. Jody Hartstone - Landioso - 63.208 - 65.95
3. Charlott Bayliss - All Black II - 60.583 - 63.6
4. Bill Noble - Vincent St James - 56.167 - 66.8
5. Karen Anderson - Komplete Kaos - 59.25 - 62.65
Related Links
Angela Fergusson, A Fresh Face for Horse of the Year 2008
South Africa Wins 2008 Dressage Tri-Nations in New Zealand
A Tight Finish in the Young Riders Competition at the 2008 New Zealand Horse of the Year Show
Bill Noble, 2007 New Zealand Dressage Champion 
Hartstone, 2006 New Zealand Dressage Champion on her "Professor"