What's Happening in the Dressage World?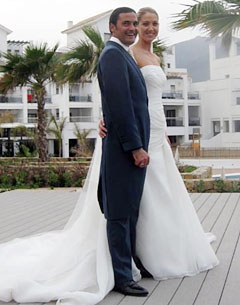 Spanish WEG dressage team rider, 30-year old Jose Antonio Garcia Mena, got married. Garcia Mena walked a different center line this past weekend, that of the aisle of the church at his wedding to fiancee Catherina Mena.
The top of the Spanish dressage world gathered for the celebration and guests included team trainer Jan Bemelmans, chef d'equipe Bobby Fernandez de Bobadilla and team mates Juan Manuel Munoz Diaz, Claudio Castilla, and Jordi Domingo. Jose Antonio's former and current employers, the Domecq and Lovera family, were of course guests of honour at the event.
The bride was dressed in a sober, typical Spanish wedding gown white huge white veil while the mother of the bride wore the traditional mantilla. The couple arrived and left the church in a carriage drawn by four bay Iberian horses.
The glorious day continued with a big feast at Hotel Fuerte Estepona Suites in attendance of 200 invitees. The pair will spend their honeymoon on the Canary Islands.
Photo © Top Iberian - Read more about this wedding on Top Iberian!
Related Links
Eurodressage Photo Database: Jose Antonio Garcia Mena
Garcia Mena and Norte Bring Dash to the Arena at 2011 Sunshine Tour
Spain and Portugal Cover Ground at the 2005 Sunshine Tour