2011 Horsefood Dressage Talent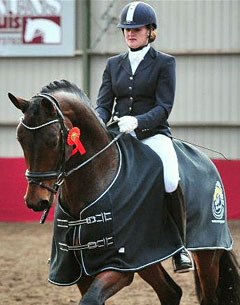 Borencio and Corleone were the winners of the 2011 Horsefood Dressage Talent competition for 4 and 5 year olds held at Berkel-Enschot on 19 and 20 March 2011. Judged by Jan Wolfs, Edward Gal and Hans Peter Minderhoud, more than 140 horses qualified for the finals of this rising Dutch winter competition for young dressage horses, which held its sixth edition so far.
The judges' trio assessed all youngsters under their own rider and the top three ranked horses were test-ridden by Hans Peter Minderhoud to determine the overall champion.
The 4-year old Corleone (by Lord Leatherdale x Lamoureux II x Der Clou) has only been saddle broken six months ago but rose to the top of the ranking under 19-tear old Danique Janssen from Prinsenbeek, The Netherlands, scoring 81.5 points in the first round. Guest judge rider Minderhoud was extremely enthusiastic about this young stallion, who got 95 points for rideability and potential totalling 176,50 points. "Of course he still has to gain strength but he was very rideable and quick from behind. I had a wonderful ride on him."
Inge Coenen and Cliff (by Lingh x Olivi x Zortin) finished second with a total of 170 points. This horse was praised for his rideability and good looks. Eric van  de Wildenberg and Chapter Leatherdale (by Lord Leatherdale x Negro) placed third with 165 points. This horse stood out with his good canter.
In the 5-year old division last year's Horsefood Dressage Talent winner Borencio recaptured the title. The Florencio x Lord Sinclair x Clavecimbel offspring, which is owned by Leida and Tim Collins, scored 85 points in the first round under Emmelie Scholtens. Minderhoud added another 95 points to that after his ride, which added up to a total of 180 points. "Borencio works with you and I was able to really try him out," Minderhoud told Dutch equestrian newspaper Het Sportpaard. "He doesn't appear to be very sensitive but he is when you're aboard. You can notice he's already far in his training."
The KWPN star mare Beau Sejour (by Flemmingh x Tolbert x Le Val Blanc xx) received 80 points in round 1 under owner Marie Jose Hulsman. With another 85 points from Hans Peter, the mare achieved 165 points to finish second. Henrietta Jansen and Suave (by Sorento x Roman Nature x Candyboy) slotted in third with 158,50 points.
Results
4-year olds
| | | | | | | |
| --- | --- | --- | --- | --- | --- | --- |
| Horse | Pedigree | Rider | Points | Points | Total | Rank |
|   |   |   | Round 1 | Finals |   |   |
| CORLEONE | Lord Leatherdale x Lamoureux | Danique Janssen | 81,5 | 95 | 176,5 | 1 |
| CLIFF | Lingh x Olivi | Inge Coenen | 80 | 90 | 170 | 2 |
| CHAPTER LEATHERDALE | Lord Leatherdale x Negro | Erik vd Wildenberg | 80 | 85 | 165 | 3 |
| CHRISSY | Dayano x Jazz | Yvanka Nuijten | 79 |   |   | 4 |
| HEXAG. CHARON | Rubiquil x Havidoff | Thamar Zweistra | 78,5 |   |   | 5 |
| CLINT | Lingh x Rousseau | Leonie Bos | 78 |   |   | 6 |
| CORENTO A.S. | Sorento x Gabor | Maarten v. Stek | 77,5 |   |   | 7 |
| APG CARUSO | Painted Black x Donnerwind | Remi Kulik | 76,5 |   |   | 8 |
| CONFIDENCE | United x Gribaldi | Frans Kleyn v. Willigen | 76,5 |   |   | 9 |
| CASHMIR | Serano Gold x Michelangelo | Kim Koolen | 76,5 |   |   | 10 |
| APG CARUSO | Painted Black x Donnerwind | Remi Kulik | 76,5 |   |   | 11 |
| CAMARANTE VERINA | Samarant x Welthit II | Joyce v. Opbergen | 76 |   |   | 12 |
| CYRANO | Florett As x Junior Stv | Janneke v. Riet | 75,5 |   |   | 13 |
| CATCH ME | Dreamcatcher x Goodtimes | Margo Timmermans | 75,5 |   |   | 13 |
| CHI CHI LAROU | Florett As x Pablo | Bart Jan v. Weert | 75 |   |   | 15 |
| CINDERELLA | Vivaldi x Ronaldo | Ans v. Oort | 74,5 |   |   | 16 |
| CHOCOBOY | Johnson x Gribaldi | Sylvia Naagen | 74,5 |   |   | 16 |
| VMF CENDER | United x Damiro | Emma v. Hooven | 74,5 |   |   | 16 |
|   |   |   |   |   |   |   |
| CHRYSTIE | Vivaldi x Houston | Suzanne v. Loon | 74 |   |   | 19 |
| CONCORDE VD Z. | Valeron x Fruhling | Femke de Laat | 74 |   |   | 20 |
| CODENA | RUBIQUIL  X  MYTENS | Renske Spanjers | 73 |   |   | 21 |
| COME BACK KID RDP | Hotline x Krack C | Robin Geelen | 72,5 |   |   | 22 |
| CHAMP | Johnson x Cocktail | Petri Bax | 72,5 |   |   | 23 |
| CALVIN KLEIN | Valeron x Uniform | Deborah v. Mook | 72,5 |   |   | 24 |
| HUNTER DOUGLAS CJ | Johnson x Grafiet | Pim Candel | 72,5 |   |   | 25 |
| COCO CHANEL | Westpoint x ? | Sabien Verheijen | 72 |   |   | 26 |
| CEES | OOSeven x Argo | Maarten Donkers | 72 |   |   | 27 |
| C'EST BRIA VCG | Valdez x Weyden | Priscilla Broersma | 71,5 |   |   | 28 |
| CORVETTE | Flemmingh x Jazz | Wilma vd Steen | 71,5 |   |   | 29 |
| CHUPPY CHECKER | Osmium x Balzflug | Mariëlle Spierings | 71,5 |   |   | 30 |
| CONQUEST | Hotline x Balzflug | Marieke Pijnenburg | 71,5 |   |   | 31 |
| CHURCHILL | Uphill x Goodtimes | Wilma vd Steen | 71,5 |   |   | 32 |
| CHILEAB V. W. | Jazz x Don Schufro | Simone Kromkamp | 71 |   |   | 33 |
| CIWEMMIE W | Tuschinski x Rhodium | Antoinette Wildeboer | 71 |   |   | 34 |
| SIR CHARLY CHAPLIN | Sir Donnerhall x Purioso | Gabrielle Bakker | 71 |   |   | 35 |
| CHARISMA | Florencio x Zeoliet | Moniek v. Riel | 70,5 |   |   | 36 |
| CARAMBA | Hemmingway x Iglesias | Karen Nijvelt | 70,5 |   |   | 37 |
| CIVARO | Florett As x Obelisk | Yvonne Hermens | 70,5 |   |   | 38 |
| CHARLESTON HM | Lord Leatherdale x Houston | Elsemiek de Man | 70,5 |   |   | 39 |
| CERANO GOLD | Serano Gold x Lancelot | Leonie Bos | 70,5 |   |   | 40 |
| CLOUD | Santano x Rousseau | Brecht d'Hoore | 70,5 |   |   | 41 |
| CRESCENDO | Tolando x Cocktail | Katja Gevers | 70,5 |   |   | 42 |
| CHRISTON B | Sandro Hit x Jazz | Katja Gevers | 70 |   |   | 43 |
| CONQUISTADOR | Rhodium x Nobility | Christel Deugd | 69,5 |   |   | 44 |
| CRYSTAL PURE C | Sunny Boy x Krack C | Peter v. Weemen | 69,5 |   |   | 45 |
| CATCH ME | Florett As x Equador | Danique v. Bergen | 69,5 |   |   | 46 |
| CYBELE B | Dreamcatcher x Belisar | Alan Velthuis | 69,5 |   |   | 47 |
| HALLI GALLI | Hotline x Lanciano | Puck Smetsers | 69 |   |   | 48 |
| COURT | Westpoint x Goodwill | Danique Janssen | 69 |   |   | 49 |
| CAMELOT | Westpoint x Focus | Jantine Lazeroms | 69 |   |   | 50 |
| DARK CHOCOLATE | Damon Hill x Florestan I | Yehudi v. Hulsen | 69 |   |   | 51 |
| SIRYUS | Santiago x Dream of Heidelb. | Nicky Hoevenaars | 68,5 |   |   | 52 |
| CADO RAVA | Negro x Romancier | Karin v. Dijk | 68,5 |   |   | 53 |
| CITTA | Jazz x Candy Boy | Soraya Lamers | 68,5 |   |   | 54 |
| CHAPLIN | Sandro's Match x Jazz | Yehudi v. Hulsen | 67,5 |   |   | 55 |
| CORNAN | Florencio x Beaujolais | Barbara den Braber | 67,5 |   |   | 56 |
| COEN | Sandreo x Contango | Shanda de Boer | 67,5 |   |   | 57 |
| CASINO ROYALE | Tuschinski x Rousseau | Martha v. Soest | 67,5 |   |   | 58 |
| CADISH | Rhodium x Gribaldi | Laura Klerx | 67 |   |   | 59 |
| CRESCENDO | Sir Donnerhall x Jazz | Marga Kolkman | 67 |   |   | 60 |
| CETRADONNIE | Painted Black x Jetset D | Suzanne Smulders | 66,5 |   |   | 61 |
| CHOPIN CL | Dayano x Havidoff | Veronique Swagemakers | 66,5 |   |   | 62 |
| CLAUS | Rhodium x Wellington | Hanneke vd Goor | 66,5 |   |   | 63 |
| CHIMMY CHURRY | Dayano x Midt West Ibi Light | Rianne Kerkhofs | 66 |   |   | 64 |
| CHAPTER | Dayano x OOSeven | Joyce v. Opbergen | 66 |   |   | 65 |
| CHARMEUR | Special D x Jazz | Ellis vd Donk | 65,5 |   |   | 66 |
| CARLOS | Scandic x Tolbert | Fiona v. Dort | 65,5 |   |   | 67 |
| WILLEM II | Welthit II x Donnerschlag | Kim Hestenfeld | 65 |   |   | 68 |
| CHESS | Dyano x Lord Sinclair | Fauve Beekmans | 64,5 |   |   | 69 |
| CONSTANCE | Flemmingh x Dageraad | Viki Huysmans | 63,5 |   |   | 70 |
| CAESAR | Dayano x Olivi | Mascha Spanjers | 63 |   |   | 71 |
| CLASSY DIAMOND | Valeron x Namaqualand | Angela Hadley | 62,5 |   |   | 72 |
| DON DIEGO HIT | Don Lauries Hit x Prestige | Jennifer Heefer | 60,5 |   |   | 73 |
5-year olds
| | | | | | | |
| --- | --- | --- | --- | --- | --- | --- |
| BORENCIO | Florencio x Lord Sinclair | Emmelie Scholtens | 85 | 95 | 180 | 1 |
| BEAU SEJOUR | Flemmingh x Tolbert | Marie José Hulsman | 80 | 85 | 165 | 2 |
| SUAVE | Sorento x Roman Nature | Henrieta Janssen | 78,5 | 80 | 158,5 | 3 |
| FIDO DIDO | Florencio x Climax | Petra v. Esch | 78 |   |   | 4 |
| BEAU PUNTO C | Rubiquil x Jazz | Brecht d'Hoore | 78 |   |   | 4 |
| VMF BEAUMONDE | United x Fruhling | Emma v. Hooven | 78 |   |   | 4 |
| SIR MATCHO | Sir Donnerhall x Matcho | Maartje Leeflang | 77 |   |   |   |
| BOMBARIE | Sandreo x Welt Hit II | Kim Thijssen | 77 |   |   | 7 |
| BELLE-ENNIE | Don Gregory x Grafiet | Charlotte vd Steen | 76 |   |   | 9 |
| SIR SAMARANT | Samarant x Ex Libris | Kelly vd Heijden | 75,5 |   |   | 10 |
| BAXIMILIANA | Johnson x Ferro | Yvonne Fiechter | 75 |   |   | 11 |
| BADORIJKE L | Vivaldo x Krack C | Vivienne Bos | 75 |   |   | 11 |
| BELLORA | Florencio x Jazz | Renske Spanjers | 74,5 |   |   | 13 |
| ACC. BELLISSIOMO | Florencio x Flemmingh | Christianne Goes | 74,5 |   |   | 14 |
| BERATO | Showtime x Erato | Karen Nijvelt | 74 |   |   | 15 |
| FERNANDO TORRES | Florencio x Sandro Song | Veronique Swagemakers | 74 |   |   | 16 |
| BLITZ | Goodtimes x OOSeven | Yvonne Fiechter | 73,5 |   |   | 17 |
| BLÓF | Uptown x Inspekteur | Aagje Hardeman | 73,5 |   |   | 18 |
| BUGS BUNNY | Flemmingh x Dolany | Femke de Laat | 72,5 |   |   | 19 |
| BARON V. HALL. | Obelisk x Erato | Hellen v. Rotteveel | 72 |   |   | 20 |
| BEXLI | Rubinero x Welt Hit II | Teddy Wiedeler | 72 |   |   | 21 |
| BRANDO | Sandreo x Wellington | Mariska vd Linden | 72 |   |   | 22 |
| BRENDA | Negro x Revenge W | Anouk vd Brand | 71,5 |   |   | 23 |
| BODORA | Jazz x Negro | Martine Toxopeus | 71,5 |   |   | 24 |
| BRILJANT | Florencio x Metall | Saskia Lazeroms | 71 |   |   | 25 |
| BAMBI DAFANORY | Jazz x Winckenburgh | Lars Op 't Hoog | 70,5 |   |   | 26 |
| BRAM | Sandreo x Gribaldi | Neeltje v. Kollenburg | 70,5 |   |   | 27 |
| BERKELEY TH | Flemmingh x Rubinstar | Inge Broeken | 70,5 |   |   | 28 |
| DMI'S BERDIEN | Sandro Hit x Democraat | Pieter v. Weemen | 70 |   |   | 29 |
| BOLERO    | Flemmingh x Lafitte II | Lars Op 't Hoog | 70 |   |   | 30 |
| HONNEUR | Hochadel x Bergkristal | Veronique Swagemakers | 70 |   |   | 31 |
| BOLERO DVB | Jazz x Ulft | Lisanne der Nederlanden | 70 |   |   | 32 |
| BORAVA | Trento B x Negro | Amy v. Dijk | 70 |   |   | 33 |
| BANJO | Hemmingway x Jazz | Karen Nijvelt | 69,5 |   |   | 34 |
| BONNEVANCK II P.P | Krack C x Donnerhall | Femke de Laat | 69,5 |   |   | 35 |
| KRISTY'S BALANCE | Krack C x Pion | Petty Vos | 69,5 |   |   | 36 |
| BOANITA | Krack C x Samber | Peter v. Wetzelaer | 69 |   |   | 37 |
| BOLSTER | Special D x Goodtimes | Jan Willem Verhoeven | 68,5 |   |   | 38 |
| BROOKLYN | Flemmingh x Clavecimbel | Marieke vd Oord | 68,5 |   |   | 39 |
| BUENO | Undigo x Zeoliet | Pilou v. Dijk | 68,5 |   |   | 40 |
| QUIDO Z | Quite Easy x Coriano Z | Emma de Brabandere | 68,5 |   |   | 41 |
| BLÓF | Prestige VDL x Goodwill | Meggie Nieuwenhuizen | 68 |   |   | 42 |
| BIMPRESSED | Undigo x Inspekteur | Frans Kleijn v Willigen | 68 |   |   | 43 |
| BEAU | Tuschinski x Derrick | Femke de Laat | 68 |   |   | 44 |
| GR. BJORN BORG | Johnson x Ulft | Kelly vd Heijden | 68 |   |   | 45 |
| BOBO | Tuschinski x Caritas | Puck Slaats | 68 |   |   | 46 |
| BIJAN | Lord Loxley x Ferro | Petra v. Esch | 67,5 |   |   | 47 |
| GARFUNKEL | Jazz x Welthit | Rowie Rooth | 67,5 |   |   | 48 |
| BYONDA | United x Dutchboy | Caroline Burema | 67,5 |   |   | 49 |
| BABYLON | Jetset D x Monaco | Fiona v. Dort | 67,5 |   |   | 50 |
| BETRY | Trento x Gribaldi | Bartjan v. Weert | 67 |   |   | 51 |
| BATTLE | Diamond Hit x Krack C | Lisanne Basten | 67 |   |   | 52 |
| BECKHAM EG | Risky Business x TCN Partout | Nijnke Frankes | 66,5 |   |   | 53 |
| BUNOLA | Casantos x Peter Pan | Nancy Brosens | 66 |   |   | 54 |
| BELLE CANTOS | Cantos x Burggraaf | Monique Hazeleger | 66 |   |   | 55 |
| BEAUCARO | Tuschinski x Feinbrand | Karin Toetenel | 65,5 |   |   | 56 |
| BRANDARUS | Ravel x Mytens | Mariska Krowinkel | 64,5 |   |   | 57 |
| BRULANDRO | Jetset D x Dillenburg | Danielle v. Gaal | 64,5 |   |   | 58 |
| BOLIVI | Andiamo x Grannus | Marie Louise Moerings | 63,5 |   |   | 59 |
| BITHAR | Trento B x Goodtimes | Mariska Krowinkel | 63,5 |   |   | 60 |
| BODYGUARD | Krack C x Purioso | Lisa Stokman | 63 |   |   | 61 |
| RHODOS | Ruben G x Chronos | Susan Mooijman | 62 |   |   | 62 |
| BELLALANOUK | Painted Black x Naturel | Kimberly Damen | 61,5 |   |   | 63 |
| BEGANJA | Rubiquil x Havidoff | Marlies Ottevanger | 61,5 |   |   | 64 |
| BRABANT V | Johnson x Future | Rosan v. Roosmalen | 61 |   |   | 65 |
Related Link
Borencio and Avanti Win 2010 Horsefood Dressage Talent Competition