2011 CDI Vidauban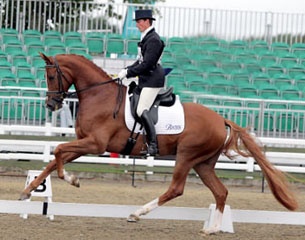 British Bred Woodlander Farouche (Furst Heinrich x Dimaggio x Caprimond) dominated both of her classes at the CDI in Vidauban this week winning the 5 year old preliminary class with a score of 94.2%, a clear 18.4% ahead of second place. She then went on to win again with rider Michael Eilberg in the 5 year old class, matching her score of 94.2%
, second went to another talented Woodlander youngster , the breeding stallion Wavavoom (Weltregent x Longchamp x Davignon) , finishing with an impressive score of 77.8% with Maria Eilberg. 
Woodlander Farouche performance potential first shone through as a two year old in the BEF Futurity series, she scored a Higher First premium and then went on to claim Overall BEF Futurity 2008 Dressage Champion at the Futurity final later that same year. Evaluators at the final, Carl Hester and Lesley Peyton-Gilbert were won over by her ultra modern type and expressive paces, pinning her as a star of the future.
The Futurity series is an initiative in the UK that helps to identify talented young sport horses and ponies, as well as collecting breed data so that British breeders can make use of that information for future breeding decisions, it also provides feedback to participants on the suitability of the horse they have bred for its intended discipline and the market for which it has been bred.
In the Futurity, sport horses and ponies from foals to three year olds are evaluated for performance potential in their chosen discipline by a vet and a team of up to four evaluators at a number of regional venues around the country during July and August. Over 900 horses will be evaluated this year throughout the UK to assess their performance potential as an indicator for the future.
BEF Head of Equine Development, Jan Rogers said, "Farouche was one of the highest scoring Futurity dressage youngsters in her year and it is thrilling to see how well she is doing in competition. It is the combination of considered breeding and careful production that have resulted in her success, we hope to see many more futurity graduates follow in her footsteps ".
Lynne Crowden, Breeder of Woodlander Farouche spoke about this fantastic mare, " She is selected for the World Breeding Championships in Verden this summer and won, in 2010, The Badminton Young Dressage Horse Four Year Old, (Wavavoom was reserve) and Supreme; the Shearwater National 4 year old; the Shearwater International 4 year old and the Shearwater International Supreme. She finds everything easy but it is sometimes perhaps difficult to know just how much to ask for. The Eilberg training is very careful and considered from this perspective...very little "flashing" about. She has matured a lot since last summer when she was a "size 4 supermodel" and now looks like a mature woman capable of going Grand Prix. Her 2010 ET foal (by Woodlander Wesuvio) looks just like her but we shall see how she moves when she is turned out in April."
We are set to see more from this talented mother line, which descends from the dam line of the great Florestan, as Farouche's dam, British Bred Dornroeschen , who is currently out competing with Michael Eilberg at Inter I, has an Embryo transfer foal due this year by the talented young stallion For Compliment. Farouche is also expecting another foal this season (via ET) by Woodlander Wavavoom. "We will do at least one ET with them both this year again," said Lynne.
Text by Cat Wood
Photo © Badminton Dressage Championships
Related Links
Scores 2011 CDI Vidauban
Woodlander Farouche and Retro Hit win 2010 British Young Horse Championships