2011 Rhinelander Pony Talent Search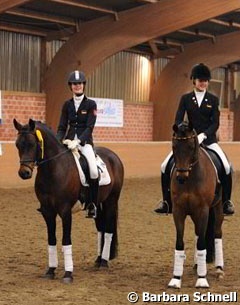 Two Lords dominated the 2011 Rhinelander Pony Talent Search Competition in Hunxe, Germany, on 26 - 27 February 2011. Joline Thuning on Der Feine Lord and Lena Charlotte Walterscheidt on Lord Champion won the FEI Dressage Test group 1 and 2. Eurodressage correspondent Barbara Schnell was on the scene to photograph the classes. Check out her photos from the event.
The annual pony talent search competition at Peter Engel's stable in Hunxe is the first meeting point of the year for Rhinelander based FEI dressage pony riders where they present themselves to judges in competition. The show is an excellent venue to see which rising stars will be showing at the highest pony level in the Rhinelander area, where the largest amount of German FEI pony riders is based.
Check out the IMAGE GALLERY at the bottom of this page
Photos © Barbara Schnell
Results
FEI Dressage Pony Test - Group 1
1. Joline Thuning - Der Feine Lord - 70.278
2. Lena Charlot Walterscheidt - Don Davidoff - 68.704
3. Johanne Pauline von Danwitz - White Gold B - 66.944
4. Anna Christina Abbelen - Dornik's Donovan - 65.278
5. Celine König - Dorn - 64.444
6. Luca Michels - Dein Freund - 64.352
7. Elena Keus - Reitlands Rheingold - 64.167
7. Lea Marie Sievers - Dolly - 64.167
9. Pia Boehmer - Wengelo's Ricardo - 64.167
9. Julia Schulze Frenking - Die Kleine Liebe - 63.889
11. Saskia Schneppenheim - Dow Jones - 63.241
12. Celina Rotter - Mac Duncan - 62.778
13. Francesca Sophia Mari Heil - D'Artagnon - 62.407
13. Leonie Krull - Caracci - 62.407
15. Kira Ellmann - Renoir - 62.037
16. Franziska Goldammer - Miss Marple - 61.852
17. Sarah Spill - Der Kleine Donnerhall - 61.667
18. Laura Katharina Pauli - Galileo Galilei - 61.389
19. Celine Konig - Top Secret - 61.111
20. Pia Klostermann - FS Dior de Luxe - 61.019
21. Anouk Wiemers - Die Feine Chanel - 60.556
22. Leonie Teeuwen - Dream of Nibelungen - 60.463
23. Hannah Wiessner - Top Niklas - 60.463
FEI Dressage Pony Test - Group 2
1. Lena Charlot Walterscheidt - Lord Champion - 69.352
2. Saskia Neuland - Danny H - 68.241
3. Johanne Pauline von Danwitz - Genesis B - 65.648
4. Pia Boehmer - Brantops D'Oro - 64.907
5. Laura Katharina Pauli - Dornik Double - 64.444
Related Link
Photo Report: 2007 Rhinelander Pony Talent Search in Hunxe