2011 VSN Trophy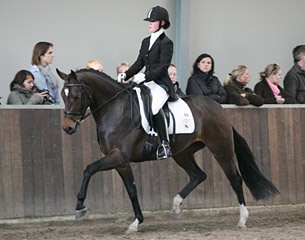 The 3-year old NRPS registered mare TC Celanique (by Ravel x Cabochon) won the 2011 VSN Trophy held at the KWPN/KNHS Head quarters in Ermelo, The Netherlands, on 14 January 2011. Under Sjanine van der Jacht the dark bay mare scored 51 points in total and beat Madeleine Witte-Vrees on Chopin.
Judged by KWPN selector Toine Hoefs and FEI rider Lynne Maas, the VSN trophy Finals had two rounds. In the first round, the horses were assessed in pairs or by the three. Afterwards, the five highest scoring horses were test-ridden by Lynne Maas. Celanique scored 8 for walk, 8.5 for trot and canter, 8 for rideability and general impression and test rider Maas gave the mare a 10, which resulted in a winning 51 points.
Witte-Vrees and the chestnut KWPN stallion Chopin (by Jazz x Zep) are a brand new combination and already booked considerable success together, becoming the reserve champions in the 2011 VSN Trophy. A full brother to Sue Blinks' Pavo Cup winning  Robin Hood, Chopin scored 7.8 for walk, 8.2 for trot, 8.0 for canter, rideability and general impression. Guest judge rider Maas added a 9.0 to that, which totalled 49 points.
Judith Ribbels and Cerento (by Sorento x Don Primaire x Candy Boy) finished third with 48,5 points. The dark bay licensed stallion received an 8 for walk, 8.2 for trot, 7.8 for canter and 8 for rideability and general impression. Maas rewarded the colt with an 8.5.
Photo © Stephanie van Houten
Results 2011 VSN Trophy Finals
1. TC Celanique (by Ravel x Jazz) - 51,0
2. Chopin (by Jazz x Zep -  49,0
3. Cerento (by Sorento x Don Primaire) -  48,5
4. Ciska II (by Samba Hit II) -  47,2
5. TC Cheatodon (by Vic) -  46,3
6. Cyrano (by Florett As) - 37,8
7. Citho (by Johnson) -  37,7
7. Coco (by Jazz) -  37,7
9. Clint (by Lingh) - 37,2
9. Cairo (by Uphill)  - 37,2
11. Ciwemmie (by Tuschinki) -  37,1
12. Coeroeni (by Dutch Dormello) -  37,0
13. Chichen Itza (by Florencio) -  36,8
14. Catosion (by Sir Donnerhall) -  36,6
14. TC Ciclair (by Sir Sinclair) -  36,6
16. Codette (by Painted Black) - 36,3
17. Sir Donovan (by Sir Donnerhall) -  35,9
18. Chico Cacero (by Sandreo) -  35,5
19. Calvados (by Painted Black) - 35,3
20. Duval's Catwalk (by Vic) -  34,9
21. Hexagons Charon (by Rubiquil) -  34,7
22. Caspar (by Special D) -  34,6
23. Cliff (by Lingh) -  34,4
24. Chin Chan K (by Samba Hit II) -  34,2
25. Catch Me (by Florett As) -  34,1
25. CC Strider (by Son de Niro) -  34,1
27. Chacha Time (by Painted Black) -  33,3
Related Links
Chinook Wins 2010 VWF Dressage Cup for 3-year olds
Bretton Woods, Winner of the 2010 VSN Trophy Finals
Annerijke Wins 2009 VSN Trophy
Zaragoza Wins 2008 VSN Trophy