KWPN Breeding News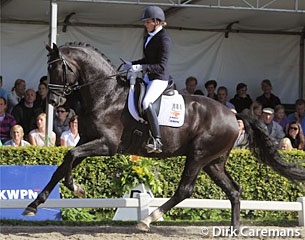 The 2010 KWPN Autumn Stallion Performance testing became a walk in the park for the 4-year old Dutch warmblood Bretton Woods (by Johnson x De Niro) who outclassed his one-year younger competitors.
Eleven stallions in total passed the testing which had its final day on 24 November 2010 in Stegeren, The Netherlands.
Bred by G. Jansen-Blanken and owned by Nico Witte and A. van Limpt, the black Bretton Woods scored a total of 84.5 points. He received 7.5 for walk, 8.5 for trot, 9 for canter, 8.5 for suppleness, 9 for self carriage, 8 for rideability/character and 9 for dressage potential. Bretton Woods is by Johnson out of Annabel (by De Niro x Romancier x Troublemaker).
The second highest scoring dressage stallion was Cupido (by Daddy Cool x Jazz x Ulft), bred and owned by F. van Stiphout. He scored 8.5 for walk and canter and solid 8s for trot, suppleness, self carriage, rideability/character and dressage potential. He totalled 82 points.
Jan Lamers' bay stallion Cachet L (by Jazz x Ferro x Nimmerdor) ranked third with 81.5 points. The stallion scored 8s for walk, trot, suppleness,  self carriage and dressage potential, a 9 for canter and a 7.5 for rideability and character.
President stables' Chagall (by Jazz x De Niro x Romancier) finished fourth with 80 points. He got 7.5 for walk, trot and rideability, 8 for suppleness and dressage potential, 8.5 for self carriage and 9 for canter.
The Vivaldi x San Remo did not pass the testing as he only scored 68 points.
Photo © Dirk Caremans
Related Links
Three More Stallions Leave 2010 KWPN Autumn Stallion Performance Test
Three Stallions Exit 2010 KWPN Autumn Stallion Performance Testing
Charmeur, Winner of the 2010 KWPN Spring Stallion Performance Testing