Dutch Dressage News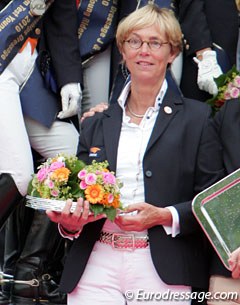 As of yesterday Dutch dressage rider and trainer Tineke Bartels as well as Anneke van Zanen-Nieberg and Jan Willem Maas became official members of the board of directors of the Dutch Olympic Committee (NOC*NSF).
During a member assembly it was decided to infuse the NOC management with more former high performance athletes. Chair André Bolhuis commented that "the three new candidates have decided to devote a large portion of their spare time to volunteering for the sport. I have asked them to continue their work on the NOC*NSF board. Fortunately they said yes and I'm very proud of that."
Handbal player Anneke van Zanen-Nieberg is the new treasurer, hockey player Jan Willem Maas is part of the "Olympic Plan 2028" and dressage trainer Tineke Bartels is a top sport representative.
"It's a great challenge and I'll will be giving it my all," said Tineke Bartels. "I'm looking forward to the first board meeting to be further informed about the plan."
Busy bee Tineke Bartels manages her own Bartels' Academy where she teaches numerous international students. She is also team trainer and chef d'equipe of the Dutch Pony, junior and young riders' team. She is a managing director of the CHIO Rotterdam and now she'll add NOC board membership to her plate.
Related Links
Laarakkers Replaced by Tineke Bartels as Dutch Pony Chef d'Equipe
Tineke Bartels to Succeed Jan Peeters as Dutch Chef d'Equipe
Tineke Bartels Fractures Vertebra
Dutch Equestrian Federation Announces a Stallion Quartet WEG Team
Tineke Bartels Injured in Riding Accident