2010 International Dressage Forum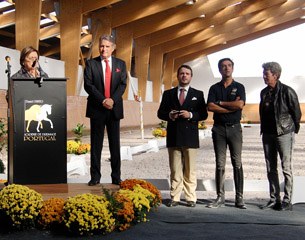 "Horses show exactly the way they are ridden" was a theme well proven at the third International Dressage Forum held at the Academide de Dressage Portugal in Arruda dos Vinhos, Portugal, 6 - 7 November 2010. The two-day forum combined some of the world's greatest riders and trainers with traditions and teaching methods unique to Portugal and their signature breed, the Lusitano.
The forum featured both good as well as not so good aspects and, while some of the presentations were slightly empty, the overall goal of the forum was certainly achieved. The demonstrations from both horse and rider successfully proved that a horse will behave and work exactly the way it is both treated and ridden, a point that was reinforced time and time again. It sounds like an obvious point to make, but from watching these experts it became clear that less experienced riders will often try to force the horse to do what they want, working against instead of with the horse.
The four major training presentations were divided over two days and while each one was unique, the common theme was apparent in all.
Working Horses in a Relaxed Way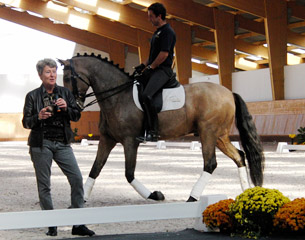 On the first day Kyra Kyrkland showed how a frightened horse should not be forced to go directly to an object, but must be ridden in a way that allows him to first accept and get used to the item causing panic. With Portuguese Grand Prix rider Daniel Pinto as her demonstration rider Kyra was able to use renvers as a tool to turn the horse's hindquarters toward the scary flower pot. This allowed Daniel to keep the horse's head focused forward and ensure the horse was on his aid. Thus the horse was able to gradually get used to his fear instead of being forced to confront it, which would only serve to heighten the anxiety.
Kyra also spoke about the relationship between horse and rider, a topic often left undiscussed. Kyra says she would like "every horse to be as good as he can be" and stressed that this will only result if the horse and rider match one another.
"To be successful you must honestly believe in your horse," Kyra said. "And you need to keep on perfecting. They say it takes 10,000 hours before you get really good at something. So if you ride for 1 hour a day, everyday, it will take you 32 years. Riding 5 horses a day will take a little less time."


To reach success a rider must always have the goal of Grand Prix in mind and so Kyra trains a young horse always thinking about reaching the grand prix movements. "The end result of the trot work should be piaffe, the ultimate collection. The end result of the canter work should be pirouettes, again the ultimate collection for canter," she said. Kyra also stressed the importance of the half-halt. "Thousands try but never really quite master them without hauling on the reins," she said. "The half halt is simply a transition not done, only I could have done it."
The other major point of Kyra's lesson was that a rider should work more on the horse's strengths than his weaknesses. "If a horse finds the canter hard, then work more on the trot. This will help him to get stronger and once he gains more strength the canter will also be better."
Kyra's lesson was of course a highlight and along with other high profile athletes like Edward Gal and Sven Rothenberger attending, the forum was able to maintain and quite often captivate the audience's attention. Kyra worked with the more advance level horse, while Miguel Tavora and Hans Riegler focused on schooling the younger horses. They found unison in much of what they advised in young horse training.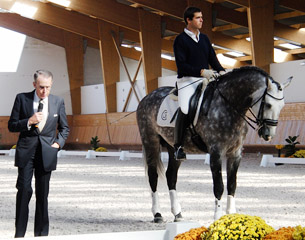 Portuguese trainer Miguel Tavora wanted the young horse to be "always searching to achieve more neck". Using tempo transitions and smaller circles around the rider's inside leg, Miguel was able to show how to get a young horse working on the aids. Miguel then applied shoulder-in into transitions to get the horse better coming through from behind.
Hans Riegler, former head rider of the Spanish Riding School,  used similar techniques and philosophies, aiming to show that working with the horse in a relaxed way helps him to free up his hind legs and move comfortably into the contact. Hans said that in Vienna they start the horses at 4 years of age and usually spend 2-3 years just establishing the basic work.
"We need to ensure a good foundation. Once we have a horse that is loose and swinging in the back we can move quickly through the other movements. We need to take time in the early stages," Riegler explained. Hans was also keen to put forward his objection to the belief that a rider must choose to ride in a classical way or a way suitable for competition. "This is really stupid," he said. "It is a clear mistake when people say I train in a classical way, not for sport. There is only a right way and a wrong way to train."
Too Much Criticism on Training Techniques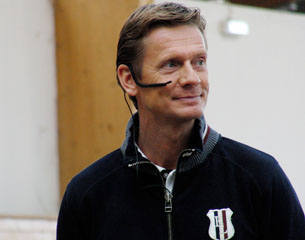 The forum highlighted a great problem in the dressage world today: that we waste too much energy criticising and condemning each other for the use of certain training techniques. Edward Gal admitted this is what frustrates him most about dressage training because there is no 'one way'. He says the best advice he has ever been given was to "adapt to the horse" and what works for one horse may not work for another.
"Every horse is different, they are like people, some people you need to shout at, whereas others will not respond if you shout at them," said Edward. The difficulty lies when people that aren't experienced try to employ certain techniques and end up trying to force something they cannot achieve not having the proper skill.
This point was reiterated by Lynda and Pat Parelli whose aim was to show the audience how they train a horse in a natural way, without the use of force. Their videos and methods were based on great ideas and demonstrated how certain techniques will allow the horse to accept us and treat us as friends. Pat used a reverse psychology approach to get a horse used to a lunge whip and it looked really easy. He just waved the whip above his head and moved away from the horse to capture its attention. He would then stop the horse with the lunge rein as soon as the horse tried to dart off to the side. However, if your average untrained dressage rider tried this, they would neither have the strength nor the ability to stop the horse and would most likely end up a tangled mess in the middle of the arena.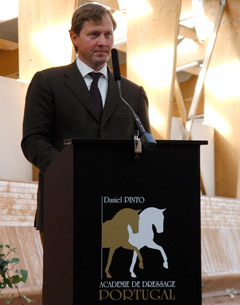 Sven Rothenberger veered away from training methods to focus on training mentality, but began his talk with a very important point. "There is a big difference between a good rider and a good trainer," Sven explained. "Some people may ride very well, but simply cannot express how to do it when teaching others. Other trainers cannot ride well, but are able to explain it to others from what they see and know. Sven said his trainer couldn't ride, but spent years reading and watching and so became brilliant at training others to ride well. "He would make me come up the centre line and halt at x 50 times until I got it perfect. Sometimes I hated him there."
Sven proved that while you must train correctly and establish the basics you also need to be disciplined and willing to work hard. "My first horse was a schoolmaster and allowed me to feel how good a good horse can be, you really need to feel this, it is something that cannot be told."
Talking about his experience as a father in the competition world, Sven said that when he was competing himself he was quite calm and managed to sleep at all the major events, but as a father he is a major worrier forced to the sideline. "It is far more stressful to watch your children compete. All my worry was not good for the kids. I ended up being the person responsible for everything but doing really nothing."
Portuguese Training Techniques in the Spotlight
The location is what made this dressage forum stand out from all the other dressage learning clinics. The Portuguese training and riding style, along with their national emblem the Lusitano, allowed the forum to take on a more historical approach to dressage training.
The presentation by Portuguese riding school master, Joao Pedro Rodrigues from the Escola Portuguesa de Arte Equestre was spectacular and presented the pure-blood Lusitano skilled in the traditional art of equitation. The horses were not only able to perform movements that require the most advanced forms of collection, but they also managed to maintain a calm and relaxed attitude and desire to adhere to their master's every command.
Beginning with simple movements to show how to relax a horse and get him working from behind, Joao Pedro used counter-bend to free up the horses outside shoulder. He then went on to explain how the masters prepare a horse to achieve the high jumps, saying that they must first establish the ultimate collection by making sure the horse is perfectly skilled at piaffe. His presentation showed the progression of dressage through history.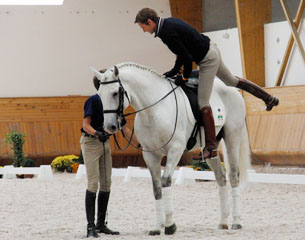 Edward Gal highlighted the crucial point that the training required for top level dressage today is very much a development of what was practiced so many centuries ago. "It was amazing to watch the horses performing the caprioles and levades. I noticed that the way the masters prepared the horse for these movements is the same techniques I use to get the collection I need in for top level dressage," Edward told Eurodressage.
The display also captured the Portuguese style of riding and was of course performed on Pure-bred Lusitanos. The forum showed the versatility and willingness of the breed with Edward Gal commenting that you feel "the Lusitano really wants to work for you".
Having never ridden a Lusitano before, Gal was more than happy to have his first demonstration and riding experience in front of an audience, and within minutes he had the horse swinging in the back and working completely on his aids, a task many riders don't master with the horse they ride everyday.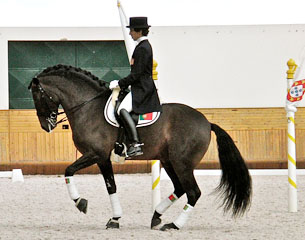 Portuguese dressage Champion Gonçalo Carvalho Conchinhas' display on his horse Rubi also showed an elite rider whose balance and technique allowed him to use the aids effectively though sitting completely still.  Thus Rubi appeared to be doing everything on his own with a very willing attitude.
The theme of the forum was again illustrated by the horses ridden by Rodrigo Torres. They showed exactly their training with a few less desireable aspects.  This rider had his legs further back so his spurs appeared to be on the horse a lot more. This made his horses look more tense and some were grinding their teeth. They did not seem to show relaxation and their flanks were pulled away from the spurs.  Although they performed amazing movements with great accuracy and obedience they looked tight through the body and did not appear as  happy and relaxed as the other demonstration horses.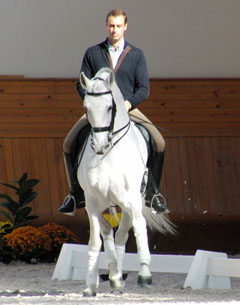 The gala show and dinner were a little disappointing. Even though the Portuguese riding school demonstration and their six-men performance by Portuguese Grand Prix riders were both very good, other parts were rather laborious. The quadrille by the Mafra school illustrated some of horse cross-breeding at its worst. The demo itself was ok for the first five minutes, as four chestnuts and four greys zig-zagged across the arena, but  when it kept going one expected a build-up to something big. Alas, just more of the same, and after 20 minutes the crowds had certainly lost interest.
Overall the forum was a great success, although there are still many elements that need work. Some of the lectures felt like time-fillers and while the program clearly stated the forum was to be held in English, the reality was more of a language cocktail that left the audience feeling a little dizzy. However as this is only the third time Portugal has hosted the event, it will surely continue to improve and it will be exciting to find out who will make the trek to Portugal for the 2011 forum.
Photos © Katja Weis
Don't forget to follow us on Facebook and Twitter for more exclusive dressage updates
Related Links
Making Progress at the 2010 Global Dressage Forum
2008 FEI Freestyle Forum: Improve the Synchronicity between Horse and Music
Top Dressage Team Debates on Dressage and Music