French Dressage News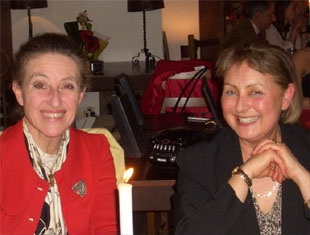 The French association Top Dressage Team, which makes efforts to promote dressage in France, has held a stirring meeting on music and dressage at Perouges, France on Monday 30 March 2009. Amongst the distinguished guests were judge Bernard Maurel, chair of the French Dressage Committee Nadine Cochenet, American Grand Prix rider Catherine Haddad, internationally renowned pianist Mikhaïl Yurkov and French figure skating champion Christine Sesboué.
Top Dressage Team and its partner, French Saddler Luc Childéric, were delighted with the outcome of their dinner-debate held in the medieval village of Pérouges. Organizing a meeting with more than 60 dressage personalities was quite the challenge.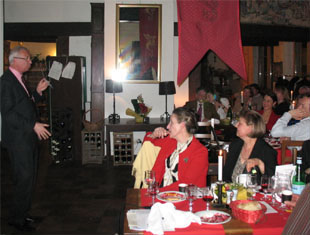 The meeting took place in the restaurant of Bernard Chardon, a baritone singer at the Opera of Lyon. Chardon served a typical Bressian dinner with fried carp. After the meal, the presentations started with Nadine Cochenet highlighting the importance of the kur to music for the popularity of dressage and equestrianism in general. To her, it is the ideal way to attract a public and sponsors. She used the show circuit "Challenge des Vikings" in Normandy as successful example. Some attendants urged that the pas de deux and quadrilles performed to music should be integrated in dressage competitions and can help to attract more sponsors.
Bernard Maurel reported on the two FEI Freestyle Forums held in Ankum in 2005 and Lisbon in 2008. He stressed that the big dressage nations, such as Germany and Holland, have been using professional musicians for composing freestyles. He confirmed that the higher costs for these freestyles correspond directly with the huge amount of work these musicians put into it.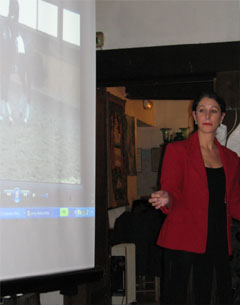 Translated in French by Stéphanie Childéric, Catherine Haddad spoke about her system for creating a freestyle. To her, it is of vital importance that the free-style music corresponds with the movements and sensibility of her horse. She compared her two horses Maximus JSS and Cadillac opposing each other. The former is a courageous and generous horse which connects with the music of the movie Gladiator. Cadillac is more timid and emotional and needs softer, more mysterious music. She explained that to her it was impossible to use one horse's music for the other, because she would not find the emotion she is looking for to become one with her horse.
A highly interesting debate followed between the audience and the judges on Mr. Yurkov's music to a short choreography on video executed by Haddad and Cadillac. Yurkov had prepared a totally different music to Cadillac's kur and preferred, for instance:
for piaffe and passage: extracts of Prokofiev's Romeo and Juliet
for trot: Beethoven's Sonate N° 8
for canter: Rachmaninov's prelude in sol minor
The attendants had varying opinions. Some agreed with Haddad that the music did not really match her horse, others believed that Mr Yurkov's music was perfectly synchronized with the choreography.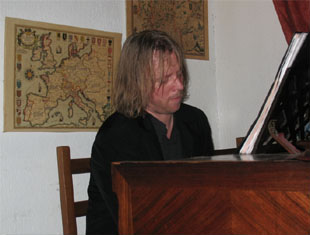 "Yurkov did a brilliant composition for the few minutes of the test ride that I sent him on video," Haddad told Eurodressage. "I was both moved and impressed. It was inspiring to hear him play. Unfortunately, the piano solo freestyle has been a bit overdone recently.  That makes me hesitate to use it in the near future.  I'm the last person to follow trends. I prefer to start them"
The question was then raised whether one needs to find music which matches the horse best or which pleases the judges the most and which could make you win? The judges present, Jacques Arbousset, William Chavanon and José Baud, disagreed in opinion as some of them are riders themselves and agreed with Haddad's statement of becoming one with the horse. The judges stressed that they liked to see freestyles that are vibrant and rhythmical. Alain Francqueville summarized that the definitions of rhythm and cadence are fundamental to the judging of freestyles. The importance of artisticity is tied to technical difficulty.
French figure skating champion Christine Sesboué was impressed by the similarities between dressage and skating. She demonstrated how she prepared a kur to music for dressage rider Jean Vésin. She started with choosing music for the rider and then adapting it to the rhythm and gaits of the horse by using a computer and metronome which measured the speed of the paces. Dominique Flament responded that for lower level riders, who can not afford to invest in expensive freestyle, it is easier to resort to computers than professional musicians.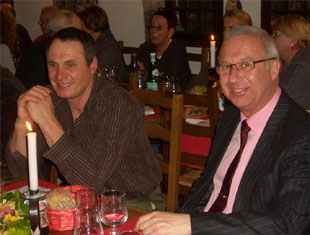 It was discussed whether one instrument sufficed or more instruments are necessary. Some thought that one instrument, especially the piano, carried more emotion, others believed that the intervention of more instruments is necessary for the complex movements in the test. Questions were: Does music illustrate the horse, does the horse interpret the music or does the music enhance technique?
Haddad thought it hard to imagine riding to live music as her priority is to get the best possible connection with her horse. Yurkov, however, did a great job playing to Haddad's ride after having worked only 9 hours on it.
The informal evening was most constructive through various presentations and a lively debate which reinforced the artistic strengths present today in German and Dutch musical freestyles. It was an inspiration for French riders. Following the success of this event, a new meeting on a national scale will soon take place.
Related Links
Official website: Top Dressage Team
Favourite of the Public, Catherine Haddad, Wins "Coup de Coeur" at 2008 CDI Lyon
Coverage of the 2008 FEI Freestyle Forum in Lisbon, Portugal
Coverage of the 2005 FEI Freestyle Forum in Ankum, Germany