2010 Spanish Dressage Championships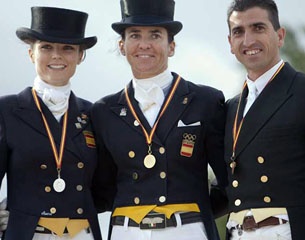 Barcelona based Beatriz Ferrer-Salat recaptured the national Grand Prix title at the 2010 Spanish Dressage Championships held at Yeguada San Jose in Nambroca, Spain, on 5 - 7 November 2010. Aboard her 14-year old Hanoverian gelding Faberge (by Falkland x Akzent I) Ferrer-Salat swept the board winning all three championship rounds.
Trained by Ton de Ridder, Beatriz started out with a smooth victory in the Grand Prix (69.447%) three percent ahead of Carlos Torrell Jane on Upido. In the Special and the Kur to Music, however, it was newcomer and surprise rider of the show Carmen Naesgaard who exceeded all expectations and came close to Ferrer-Salat's scores. With another win the Special (69.667%) and Kur (74.500), Beatriz firmly captured the gold, while former young rider Carmen Naesgaard claimed silver.
Aboard her 14-year old Hanoverian gelding Ciowa (by Cheenook), the 22-year old Naesgaard competed internationally as a young rider but then disappeared from the scene. Trained by Isidro Maldonado, Carmen resurfaced again this year and made her clame to fame by finishing third in the Grand Prix (65.106%) and second in the Special (69.333%) and Kur (72.450%).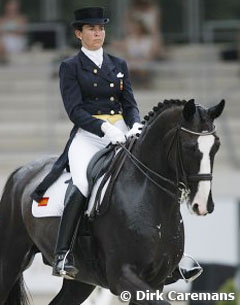 Antonio Jose Diaz Porras and Rafael Chacón's 10-year old Hanoverian gelding Duke (by De Niro) ended up in bronze medal position after scoring 65.021% in the Grand Prix (4th), 67.333% in the Special (3rd) and 68.350% in the Kur (5th).
A strong contender for the medals, Carlos Torrell Jane and the dark bay Dutch warmblood Upido (by Ferro), were sadly eliminated in the Kur to Music because the rider decided to do the final passage on the centerline with one hand lifting his top hat and saluting to the judges. This movement is not allowed in the kur program, which resulted in a very unfortunate elimination.
Photos © Topiberian.com - Dirk Caremans

View Full Scores of the 2010 Spanish Dressage Championships
Related Links
Claudia Quintilla Wins 2010 Spanish FEI Pony Championships
Bently, Artouche, Delmonte Win 2010 Spanish Young Horse Championships
Scores 2009 Spanish Championships
Carlos Torrell Jane and Upido, Spanish Shooting Stars