German Dressage News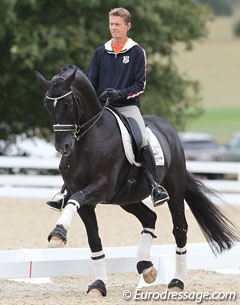 Europe's leading horse-breeder and -trader Paul Schockemöhle has bought Totilas, the most successful dressage horse in the world, and brought him to Germany. For quite a while there have been a lot of rumours
, among insiders about the stallion being up for sale and that the couple Totilas and Edward Gal would almost certainly be separated. 
"For the Dutch it was not possible to hold Totilas in their own ranks and it was not possible to put together a syndicate for the Dutch dressage sport. Therefore my passion for this great stallion has led me to take the chance to buy him myself. You may forgive me for not giving a statement earlier, but we agreed on discreteness until final processing," said Paul Schockemöhle. All necessary medical examinations have been completed successfully.
 
"Germany has so far been the country for the export of top horses. Why not import a top horse, when a very special one is on the market. I really wanted to secure this horse for German breeding and this is what I have done. Maybe I can even manage to assure a new partnership for the German sport, because Germany has first-class riders and trainers. But that has time, because Totilas has already achieved a lot for his age, so he deserves taking a break now," Schockemöhle added.
 
During conversations between the former owner Cees Visser, his wife and Paul Schockemöhle in the late summer of this year Cees Visser assured not to sell the horse before the World Equestrian Games in Kentucky in order to give Edward Gal and Totilas the opportunity to become a multiple world champion.
"Without any doubt it was always clear that the horse would be sold after that, especially since Cees Visser had only little or no breeding ambitions at all," said Schockemöhle.
 
When Paul Schockemöhle saw the stallion for the first time, he was fascinated by him. "Since then I have observed Totilas continuously. For me he really has everything a good athlete needs: three first-class elastic gaits, incredible self-carriage and collecting ability, energy and a naturally competitive spirit. Further his mental calmness that can always be seen at prizegiving ceremonies, when he actually enjoys the applause of the audience." Never before Schockemöhle has seen a horse which combines all of these qualities together, and according to all horse specialists there has not been one like this before. That's why Totilas is also described as the "wonder horse".
 
"Through world-class training, care and management Edward Gal has managed to form the basic qualities of the stallion to exceptional sporting achievements. The couple Totilas and Gal has brought spectacular performances and great moments to horse lovers all over the world and this will never be forgotten," the three-time European champion in show jumping emphazises.
"I made myself a present by buying this superior stallion for myself, and I am very happy that he is not on any different continent. I hope that he will pass on a lot of his qualities to his future foals."
Related Links
Totilas Sold to Paul Schockemohle
Sale Totilas Causes Shock Wave and Online Webquake
Editorial: Who's Not Afraid of Totilas