2010 French Young Horse Championships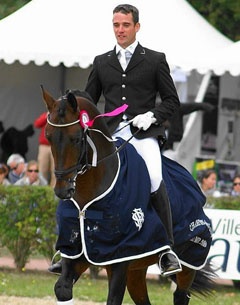 Blacktime, Grand Passion and Socrate de Hus were the grand champions of the 2010 French Young Dressage Horse Championships held during the Grande Semaine de Saumur at the French National Equestrian Centre in Saumur, France, on 23 - 26 September 2010. It was the tenth edition of these celebrated "Dressage Days in Saumur."
The 4-year old French Championship was divided into three rounds: a preliminary presentation under saddle combined with an assessment of the conformation of the horse (the end result had a coefficient of 0.4). Afterwards the horses had to do the 4-year old Finals' test (coeff. 2.0). These scores were tabulated into a total score. The 5 and 6-year old Championships were organised similarly but the coefficient for the preliminary and in-hand presentation was 0.3 for 5-year olds and 0.2 for 6-yer olds.
Jean Etienne Suisse de Sainte Clair, a former rider at Haras de Hus, won the 4-year old Champion's title aboard the black Dutch warmblood stallion Blacktime
(by Painted Black x Goodtimes x Burggraaf), which sold as a foal at the 2006 Prinsjesdag Foal Auction in The Netherlands. Suisse de Sainte Clair scored 82.00 points in total and stayed only a fraction ahead of colleague Jessica Michel on Swing de Hus, a Hanoverian branded San Remo x Wonderland offspring, which scored 81,67 points. Diana Chehov Grau and her Schon Hanoveria (by Florenxio x Rubinstein) landed a third place with 78,25 points. The horse scoring the highest for conformation was Sophie Falconnier's  Dolce Vita (by Don Crusador x Weltmeyer). They got an 84 for model and in-hand presentation.
Belgian Jef Coenegracht won the 5-year old Championships aboard German born and French based Bernadette Brune's licensed Trakehner stallion Grand Passion (by Oliver Twist x Polarion). Coenegracht and the dark bay stallion received very consistent marks throught the weekend. With 85 point for conformation, 82,33 points for the first under saddle presentation and 86,40 point for the Finals' test, Grand Passion totalled an average of 86,04 points and left all competition far behind him. Laurence Albert saddled the reserve champion: Ripley Fleuri, a Selle Francais registered Rosenprinz D x Weltmeyer II van de Zuuthoeve
get. This pair achieved an overall mark of 81,13 points and were followed in the ranking by Laetitia Isselin aboard the Hanoverian Cybelle Ila (by Conteur x Fabriano). The horse scoring the highest for conformation (90 points) was the French bred Rock 'n Roll Star (by Joeris x Jazz) which ended 10th overall under Philippe Limousin.
The 6-year old Hanoverian Socrate de Hus (by Stedinger x Trajan), who was the 5-year old champion in 2009, pushed for power in his age division. Under Jessica Michel the bay was unbeatable scoring 82,17 points in the preliminary round and 84,00 points in the finals test. This led to a 83,83 point total which put them at the top of the leaderboard. Barbara Klinger and RRomina TC, a Hanoverian mare by Rotspon x Don Primero), were the runners-up with 77,99 points, while Jean Francois Vesin and the Hanoverian Lights of Londonderry (by Londonderry x Weltmeyer) slotted in third with 77,09 points.
Photo © Mathilde Holland
Results
4-year old Dressage Horses - Qualifier - Finals --- Overall
1. Jean Etienne Suisse de Sainte Clair - Blacktime (KWPN, Painted Black x Goodtimes) - 81,00 - 82,20 --- 82.00
2. Jessica Michel - Swing de Hus (Hann, San Remo x Wonderland) - 80,00 - 82,00 --- 81,67
3. Diana Chehova Grau - Schon Hanovria (Hann, Florencio x Rubinstein) - 79,50 - 78,00 --- 78,25
4. Maxime Collard - Bueno Hit (KWPN, Sandreo x Hierarch) - 78,83 - 76,00 ---76,30
5. Nathalie Angot - Fantastic Boy (Hann, Florencio x Londonderry) -  76,33 - 75,80 --- 76,05
6. Francoise Hologne Joux - Buffon (KWPN, Gribaldi x Purioso) -  77,50 - 74,80 ---75,25
7. Christelle Marie - Biolita DN (KWPN, Lingh x Voltaire) -  76,17 - 72,60 ---73,20
8. Jean Jacques Boisson - Swing Royal (Hann, Royal Blend x Matcho AA) -  71,83 - 72,60 --- 72,47
9. Marc Andre Morin - Sontero (Hann, Hochadel x Lauries Crusador xx) -  76,50 - 72,00 ---72,42
10. Alizee Roussel - Don Amour de Hus (Old, Don Primero x Rohdiamant) - 73,33 - 71,60 ---72,22
11. Maeva Hoang - Dexter de Hus (Old, De Niro x Sandro Hit) -  78,83 - 70,80 ---71,30
12. Sophie Falconnier - Dolce Vita (Hann, Don Crusador x Weltmeyer) -  73,17 - 69,80 --- 71,20
13. Rozenn Lallouet - Sand Silver de Hus (Old, Sandro Hit x Argentinus) -  75,33 - 69,60 ---70,55
14. Jean Paul Largy - Sans Pareil (Hann, Sir Savoy x Star Regent) - 77,33 - 68,60 ---70,05
15. Kathy Dudouet - Or Noir de Hus (Old, Laurentio x Sandro Hit) -  71,17 - 68,20 ---68,70
5-year old Dressage Horses - Preliminary Test - Finals Test --- Overall
1. Jef Coenegracht - Grand Passion (Trak, Oliver Twist x Polarion) -  83,67 - 86,40 --- 86,04
2. Laurence Albert - Ripley Fleuri (SF, Rosenprinz x Weltmeyer II) -  80,67 -  81,20 --- 81,13
3. Laetitia Isselin - Cybelle Ila (Hann, Conteur x Fabriano) -  72,67 -  79,20 --- 78,35
4. Benedicte Smalto - Aptrick (KWPN, Tango x Kennedy) - 81,67 -  77,40 ---  77,96
5. Bernadette Brune - Sir Rubinstein (Old, Sir Donnerhall x Rubinstein) -  80,67 -  77,00 --- 77,48
6. Arnaud Serre - Reality Pic (Hann, Rubin Royal x Prince Thatch xx) -  75,33 -  76,80 --- 76,61
7. Claire Moucadel - Stubbs (Old, Sandro Hit x Rubinstein) -  74,33 -  74,60 --- 74,57
8. Patricia Coudurier - Rubin Son (Hann, Rotspon x Amerigo Vespucci xx) -  70,33 -  74,00 --- 73,52
9. Bertrand Lebarbier - Amsterdam (KWPN, Gribaldi x Negro) -  77,00 -  72,80 --- 73,35
10. Philippe Limousin - Rock 'n Roll Star (SF, Joeris x Jazz) - 82,67 -  71,20 --- 72,70
11. Alexandre Ayache - Renoir (Hann, Rotspon x De Niro) -  76,50 -  70,80 --- 71,54
12. Natacha Micoud - Amoradie (KWPN, Painted Black x Neostan) -  66,33 -  72,00 --- 71,26
13. Sophie Falconnier - Sommerwind Newland (Hann, Stedinger x Wohlklang) -   70,17 -  71,40 --- 71,24
14. Mathieu Berville - Fiorucci (Old, Florencio x Welt Hit II) -  76,00 -  70,40 --- 71,13
15. Aurelie Demiautte - Figaro de Hus (Old, Florencio x Sandro Hit) -  69,50 -  69,80 --- 69,76
16. Margot Ghyselen - Reglice des Feeries (SF, Joeris x Grandseigneur) -  60,83 -  70,20 --- 68,98
6-year old Dressage Horses - Preliminary Test - Finals Test --- Overall
1. Jessica Michel - Socrate de Hus (Hann, Stedinger x Trajan) - 82,17 - 84,00 --- 83,83
2. Barbara Klinger - RRomina TC (Hann, Rotspon x Don Primero) - 75,83 - 78,20 --- 77,99
3. Jean Francois Vesin - Lights of Londonderry (Hann, Londonderry x Weltmeyer) -  79,67 -  76,80 --- 77,06
4. Thierry Marais - Sir Lanka (Rhld, Sandro Hit x Davignon) -  74,50 - 77,20 --- 76,95
5. Philippe Limousin - Dirty Harry (Hann, Dacaprio x Walt Disney) -  72,83 -  76,20 --- 75,90
6. Sylvain Guasco - L'Air du Temps (Westf, Laudabilis x Parademarsch II) -  73,17 - 74,20 ---  74,10
7. Philippe Vandenberghe - Walking on Sunshine (Hann, Worldly x Saint Cloud) -  71,33 - 73,40 --- 73,21
8. Eric Schulz - Shamira (Hann, Sandro Hit x Georgenburg) -  73,00 - 73,20 --- 73,18
9. Thibault Cambourieu - Diamant Noir (Old, Depardieu x Rohdiamant) -  78,67 -  71,00 --- 71,70
10. Philippe Limousin - Django (Hann, Don Frederico x Wolkenstein II) -  80,17 -  70,60 --- 71,47
11. Jef Coenegracht - Splendid Boy (Hann, Sandro Hit x Weltmeyer) -  77,50 -  70,60 --- 71,23
12. Odile van Doorn - Qrystal d'Art (CS-M, Weltart x Dream of Glory) -  76,00 -  70,00 --- 70,55
13. Clemence Cathala - Zorro (KWPN, Special D x Colino) -  68,83 -  70,20 --- 70,08
14. Pascal Jean - Woodstock (Rhld, Weltrubin x Fidermark) -  73,17 -  69,40 ---  69,74
15. Myriam Victor Thomas - Qwismel d'Hebecourt (SF, Karamel de Lauture x Le Plantero) -  76,00 -  66,40 --- 67,27
Related Links
Rock N Roll Star, Socrate de Hus and Wodan are 2009 French Young Horse Champions
Jessica Michel, Triple French Champion with Prime Time, Noble Dream, Riwera