2010 World Para-Equestrian Games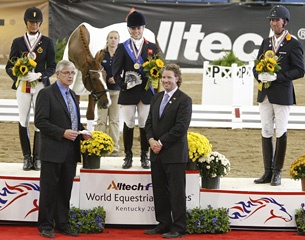 Para Dressage rider Sophie Wells claimed Grade 4 Freestyle gold to put Great Britain at the top of the medal table as the Alltech FEI World Equestrian Games™ came to a close at the Horse Park in Kentucky, USA today
 having attracted a massive attendance of over 500,000 spectators to the 16-day extravaganza. The British Para squad have been in fantastic form, scooping six individuals gold medals along with the team title.  And Wells steered her 13 year old gelding Pinocchio to victory today despite a glitch in her test.

Belgium's Michele George took silver with FBW Rainman ahead of The Netherlands' Frank Hosmar and Tiesto in bronze. 

STOPPED
Wells test began well.  "i was quite happy with my trot but then when I picked up the walk he came against me and my first movement was a compulsory, which was a simple change, and he stopped!" she explained.  Now she had make a quick decision.  "I knew I had to find somewhere else in my plan where I could put in another simple change, so all the time I was going through my next movements I was trying to think where I could put it in, and I didn't want to mess up my floor plan because it's good and they give you marks for that as well - times three" she explained.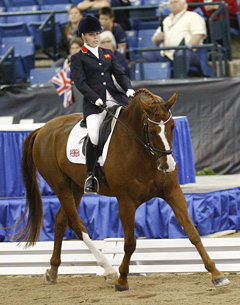 "I needed to do my compulsory again, so the only thing I thought was my last centerline.  I usually do tempis down it and I thought - right - I can try and fit in two simple changes going from each rein, but then I came around and I was too far behind my music for it!" she said.  For her all her concern however, her score of 78.500 was a winning one.

DELIGHTED
George was delighted with silver medal position with Rainman.  "It was very good, I am flattered with that" she said.  "I won the first day and the second day he got spooky from the flash of the cameras so I didn't have a chance that day and I said that today will be be my day, and fortunately it was.  It was very nice" she explained.  And she had every reason to be especially pleased, as her gelding is only eight years old. "This is the first big competition for him and me, so I am very glad" she added.

Hosmar also knew he had done a good job.  "I'm really satisfied" he said.  "I think it came out just the way I liked it - just maybe the pirouette could have been a little rounder, but he was so relaxed and nice to ride.  The whole canter part was nice" he pointed out.

The standard of today's competition was exceptional, but the standard throughout the entire Para Dressage Championship has been little short of extraordinary.  And the USA's Mary Jordan put it into perspective when she said "this has been an incredible experience.  As a member of the US team I crave more of this.  I feel the more we get a chance to show in front of the these international judges we can make a name for ourselves and keep laying down solid performances that will get the judge's attention".  Like many of her fellow-competitors this week she knows the sport is in good shape and she's looking forward to the future. "I'm really hopeful that this will ignite a passion amongst people at all levelss to get involved and support us as we move towards the London Olympic Games" she added.

Facts and Figures:
Great Britain headed the medal table as the Alltech FEI World Equestrian Games™ drew to a close today and the Para Dressage athletes made a huge contribution.
The British Para Dressage athletes took gold in the following competitions :
Individual tests - Lee Pearson (1b), Sophie Christiansen (1a), Sophie Wells (IV), Freestyle tests - Lee  Pearson(Ib), Emma Sheardown (Ia), Sophie Wells (IV)
Team Gold - Lee Pearson, Sophie Christianse, Anne Dunham and Jo Pitt.
Team GB also took 3 silver and 3 bronze medals.
Team GBR as a whole topped the medal table with nine golds, 7 silver and 3 bronze - nineteen in total and 13 in Para Dressage.

Quote:
Madison Lawson, Canada, talking about her horse, McGuire - "He's my No. 1, he is everything to me - my best friend.  He knows me better than anyone else. Normally I get very nervous and it was a test of my nerves but we survived.  The WEG experience has been nothing but positive".
Back to the 2010 WEG index