2010 World Para-Equestrian Games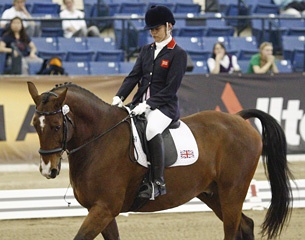 British Para-Dressage star Anne Dunham said on Thursday night "don't say I can't - say I can.  It may be slow and it may be hard, but it's always worth it in the end".  Those words rang true this afternoon when, against all the odds, her team-mate Emma Sheardown overcame a nasty accident the previous evening to come out and produce the best performance of her life and clinch the Individual Grade 1a Freestyle title at the 2010 World Equestrian Games in Kentucky, USA.
Once again the British had it all their own way in Grade 1a, but the placings were re-jigged.  Yesterday's Individual champion Sophie Christiansen had to settle for silver this time around while Dunham took bronze. 
DRAMA
Sheardown's drama began following her post-competition interviews on Thursday when she steered her 12 year old gelding, Purdy's Dream, into bronze in the Individual 1a. As she turned away she fell face-first and broke her two front teeth on impact.  She was rushed to hospital for treatment and her presence in today's Championship class seemed unlikely.  But she was discharged last night, and then, accompanied by British Team Press Relations Manager Winnie Murphy, returned for further treatment this morning.  Thanks to some exquisite dental work her smile was restored, and with it came the confidence to go out and produce the ride of her life.
Scoring 78.550 she had more than one percentage point of an advantage over Christiansen, who also has cerebral palsy.  Christiansen said today that she was "exhausted" after three days of competition.  The heat at the Horse Park in Kentucky was intense today, "and since it was hotter today both of us (herself and her horse) were tired" she explained. But Christiansen is a sportswoman in the truest sense.  "I don't want to make excuses" she insisted, "sometimes it feels good just to be done, and I'm thrilled for Emma that she rode so well after her accident".
UNBEATABLE
In Grade 3, Germany's Hannelore Brenner proved unbeatable yet again.  She racked up 79.200 on the leaderboard with a great test from her trusty steed Women of the World and her nearest rival, Denmark's Annika Lykke Dalskov, was almost four points behind when taking silver.  Rounding up the truly international line-up was Australia's Sharon Jarvis and her 14 year old Dutch-bred Applewood Odorado.  This was a sensational double for Brenner who also won Wednesday's Grade 3 Individual.
Facts and Figures:
13 riders competed in the Grade 3 Individual Freestyle Championship today
18 riders competed in the Grade 1a Freestyle Championship
Germany's Hannelore Brenner secured her second individual gold medal of the Championships when topping Freestyle Grade 3
Quotes:
Russia's Maria Zagorskaya, Freestyle Grade 1a - "It took a few days to get used to the horses, but they were good horses that we leased.  We have more complex tests that we normally do, but since these horses were borrowed, we kept it simple.  I've only known this horse for a few days, but I feel that we have made a very good combination together.  the first time I competed the horse in the team competition I had the feeling the horse was walking herself, without direction, as if she knew the track already!".
Kim Decker, USA - "my horse is great, I found him on the internet - dreamhorse,com.  He's a really good boy - easy, and just so loveable.  He's very attentive to me, whatever I ask him to do, he does.  It's so wonderful that there's so many countries together here. It's not just like a usual horse show".
Back to the 2010 WEG index