2010 Dressage at Devon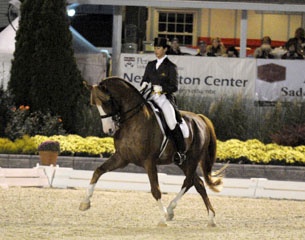 Spectators come to Dressage at Devon to see show stopping performances, and Catherine Haddad with her exuberant Winyamaro delivered! The striking chestnut with the flowing flaxen forelock demonstrated powerful passage and floating half-passes to the music of Pink from her Funhouse album. The crowd cheered their approval and the judges rewarded the effort with a 74.250% and the blue ribbon for the second consecutive evening.

 
"I never had so much fun riding in a horse show," said a clearly elated Catherine Haddad. "The atmosphere is fantastic." Haddad compared Dressage at Devon with the World Cup qualifiers in Europe and found the electric environment perfectly suited her 10-year-old gelding's personality. The flashy Hanoverian seemed to enjoy the crowd and his job. Haddad chose Pink's music for Winyamaro because, "He's Pink trapped in a horse's body! When you turn on music like that, he just dances."
 
Not only did Haddad have fun with her music, she also made a fashion statement in a brown shadbelly, brown boots and a beautiful copper brown hat from L' Hiver. The total effect made quite a positive impact.
 
Although Haddad was the reserve rider for the American World Equestrian Games team that competed earlier this week, she is already thinking ahead to next year's important events. With her sights set on qualifying for the 2011 FEI World Cup Dressage Finals, Haddad strategically chose Dressage at Devon and the 20 points she will receive for tonight's win.  The expatriate will return to her home base in Germany next week and continue with additional qualifiers this fall and winter in hopes of representing the USA at the Final next spring.
 
Finishing behind Haddad in second place was Joe Sandven and the 12-year-old Hanoverian Rachmaninoff. The elegant pair naturally rode to an arrangement by the gelding's namesake and delivered a flowing, smooth test that received a 70.800%. "It's fun when it all comes together," he expressed.
 
Grand Prix Special
Also repeating her victory from Friday night was Shawna Harding. With her 11-year-old gelding Come On III, Harding sparkled in a solid Grand Prix Special test with fantastic piaffe and passage, and expressive tempi changes.  The pair received a 68.292% from the judges. "I was just so pleased with my ride," she said. "The crowd this evening was so good--that's more [like] the European atmosphere."  Although this was Come On's first time with a large cheering crowd under lights, he focused on Harding. "He's getting more confident... He trusts me and I trust him," she said.
 
Harding is hoping to compete in Europe next year and has the 2012 Olympic Games in London on her mind.
 
Gary Rockwell, the 'O' judge who served as Head of the Ground Jury, felt that both Come On III and Winyamaro are talented young horses with bright futures. "I thought they were exciting," he said of both horses. Rockwell also praised Diane Creech's Devon, who finished second in the Special.
 
Yesterday's Prix St. Georges victors Heather Blitz and Paragon continued their winning ways in the Intermediaire I class. The pair received a 70.474% for their efforts. Kassandra Barteau and Cesar Parra also replicated their Prix St. Georges second and third placings with scores of 70.105% and 68.474% in the I-I, respectively.
Photo © Hoof Print Images
Related Link
Scores 2010 Dressage at Devon