2010 World Equestrian Games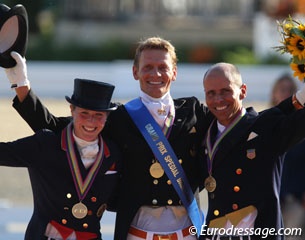 With a horse in top form it was no gamble for Edward Gal to win the Grand Prix Special gold at the 2010 World Equestrian Games in Lexington, Kentucky, on Wednesday 29 September 2010. The Dutch rider scored 85.708% with Cees Visser's KWPN stallion Totilas to earn the victory in today's class ahead of a British Laura Bechtolsheimer on Mistral Hojris and home hero Steffen Peters on Akiko Yamazaki's Ravel.
The Grand Prix Special was set under a sunny sky and the grandstand was almost full with Americans, Canadians, lots of Australians and more fans from all over the world.
The most surprising ride of the day, and probably THE revelation of the 2010 World Equestrian Games, is Spanish Juan Manuel Munoz Diaz on the PRE stallion Fuego XII. He beat Imke Schellekens-Bartel and finished fourth behind the medallists. 
The full Grand Prix Special report is (hopefully) coming up tonight.
By the way, an old rumour has stuck its ugly head back up. No Totilas is NOT SOLD!!! Edward denied all rumours it for the umpteenth time at the press conference today
Text and Photos © Astrid Appels - No reproduction allowed
Back to the 2010 WEG index