2010 World Equestrian Games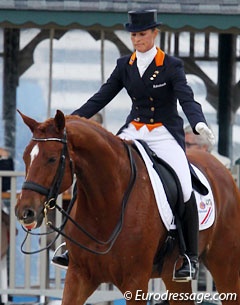 The Grand Prix team competition at the 2010 World Equestrian Games, which resumed today with the second group of riders, has taken several dramatic turns so far similar to a tragic opera.
The Netherlands' number two rider, Adelinde Cornelissen, who is a strong contender for the individual medals, was eliminated because her horse Parzival bit the tip of his tongue and blood showed in his mouth. It happened right in front of the judge's box at C during the rein back. Cornelissen was excused from the class and sadly for her the 2010 World Equestrian Games are over.
The weather cleared up today and though it is still chilly the sky is only lightly overcast. The drama did not end with Cornelissen's sad elimination. Australian Hayley Beresford's Relampago do Retiro became unlevel in the second trot extension and was also eliminated.
With sixteen more riders to go this afternoon, Germany is currently in the lead in the nations' cup with 212.893 points (Balkenhol, Koschel, Rath), followed by Great Britain (Bigwood, Eilberg, Hester) with 210,469 points and the U.S.A (Flettrich, Bateson, Konyot) with 206.170 points.
More news to come later
Provisional scores of the Grand Prix here
Check out our full report of the first day of the Grand Prix (with image gallery)
Back to the 2010 WEG index