2010 World Equestrian Games
I woke up round 8 AM local time and felt rejuvenated after a long day traveling on Saturday. With the dressage vet check scheduled to start at 11 AM on Sunday 26 September, Mary and I had planned on going to the Horse Park round 9.30.
The sky was blue with only a cloud here and there, but it certainly was not as warm as most riders were talking about the last few days. It was jacket weather and I was glad I had packed mine. I had used it to stuff my bag as protection for my camera and lenses.
It was busy at the Horse Park and it took us quite some time to get the car parked and walk to the entrance. Our bags were being checked for unallowed objects (umbrella, knife, uzi) and then we headed towards the golf cart parking, where Mary and JJ had put theirs the day before. We drove to the Media Center, where I still had to pick up my bib and put some stuff in the locker.
At the media centre we heard that the jog had been rescheduled to 10 am, so we already missed a ton of horses because we only actually got to the show grounds at 10.30. I decided I would photograph the warm up and headed to the main stadium which looked gorgeous. The grandstand is fantastic and is similar to those at racetracks, with a roof and small turrets on top. The flower decorations are gorgeous but some of the pots are quite high and could interfere with the photography.
All the celebrity riders were there. The Germans were practising in the main ring, trainer Wolfram Wittig scooted by on Wojtek Markowski's golf cart. I walked round the ring and wanted to explore where the other warm up arenas were. Suddenly I heard announcer Brian O'Connor calling the names of the U.S. Dressage team riders who had to present their horses for the jog. So it wasn't over yet. I was just in time to catch the final four horses, and Marcela Krinke's Corinth who was up for re-inspection. After the jog, all the WEG judges huddled together for a photo shot. These distinguished gentlemen and ladies looked wonderful in their green WEG jackets and matching hats.
Totilas was in the warm up ring and people were crowding at the sideline. Many were taking photos and videos because the horse is the attraction of the show. Edward was schooling the tempi changes and only very briefly did some piaffe and passage. In the distance Adelinde Cornelissen was training her Parzival more extensively. She was suppling him by riding how low-deep-and-round.
I had a brief chat with Joep Bartels, father of Imke Schellekens-Bartels and organizer of the Global Dressage Forum. Imke was riding Sunrise as well. She is also an "LDR-rider" but the image of her training is  different from some other LDR-adherents.  Imke's dark bay mare Sunrise is light in the hand, despite her deep neck and head position. The contact is soft and there is no pulling and yanking involved to force the horse into that position. Very interesting. Furthermore Imke was one of the very few riders who wore a helmet (Adelinde always does so too! Thank you for setting an example).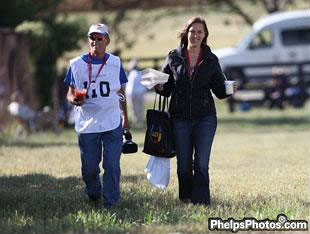 At 3 PM the warm up sessions were over and Mary, JJ and I took the golf cart to Spindletop Hall, the country club a little further down the road of the Horse Park. At the Tiki bar we got food and drinks (burgers with the most amazing pork meat, Bloody Mary's and a Pina Colada) and then we settled ourselves in the grass to see the Endurance riders of the 160 kilometer trail ride by. It was so much fun. Using Mary's portable Wifi connection I was able to go online in the middle of a field, while watching WEG endurance. JJ was taking photos and everytime a rider came by we cheered them on and they reacted by waving to us and saying thanks. Can you imagine a dressage rider doing that in the middle of his test ?
Alltech ceo Dr. Pearse Lyons hosted a competitors' party at Spindletop and it started round 5.30 PM. Only few dressage riders showed up but at least the U.S. team was there to pay respect to the sponsor who made WEG possible. Even the gold medal winning U.S. reining team show up, all proudly bearing their medals on their chest. It was a fun, casual party with drinks and nibbles but I wound up in the most surreal conversation ever: to braid or not to braid a forelock. I never had such a heated conversation about such an insignifcant thing. Yikes!
Mary, JJ an I left in the early evening and went back to the camper where I worked on photos. I went to bed at 22 PM in order to catch enough sleep for an early start on Monday.
Back to the 2010 WEG index