2010 World Equestrian Games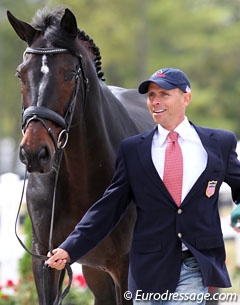 UPDATED WITH MORE PHOTOS!!!! ---- Three horses were held at the dressage horse vet inspection for the 2010 World Equestrian Games in Lexington, Kentucky, on 26 September 2010.
Two horses -- Camilla Kalseth's Carte d'Or and Marcela Krinke Susmelj's Corinth -- passed the jog after a second trot up. Portugal, the horse of Brazilian Rogerio Clementino, will be reinspected tomorrow. 
All horses appeared freshly groomed and nicely braided at the vet check which started at 10 AM, even though it was initially announced to take place at 11. The horses of all medal contending countries passed the jog with ease.
The riders were able to practise in the main show ring for 20 minutes each but the area around the show ring was open to all riders between 11 AM and 3 PM. With four big arenas available for practise the dressage riders were schooling their horses all over the Kentucky Horse Park.
The weather has cooled down quite a bit with a cold wind blowing over the show grounds. The weather forecast predicts rain for tomorrow when the first group of riders will go in the Grand Prix.
Eurodressage is on the scene and took photos and videos of the warm up today. Check back for more photos soon!
Back to the 2010 WEG Index