2010 World Equestrian Games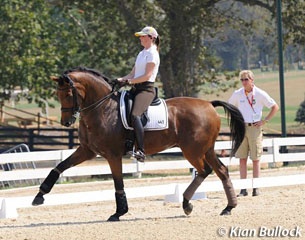 On Friday 24 September the dressage riders will get the opportunity to ride in the main arena for the first times. Each time received an allocated time frame to appear and train in the ring. Many riders reported that show fever is slowly hitting the Kentucky Horse Park as the official opening of the 2010 World Equestrian Games in Lexington, Kentucky is quickly approaching tomorrow.
Hayley Beresford's husband, Kian Bullock, took some lovely photos of the Australian team riders. Bullock is a civil engineer by profession, but he's also a jack-of-all-trades: photographer, web designer (www.hayleyberesford.com) and computer programmer. Hayley reported that the action is now getting more serious as the riders will be allowed to practice in the main arena for the first time in the morning of on 24 September 2010.
While the Australian riders are allowed to go into the main ring at 6.30 AM, the Swedes have to wait until 9. "You can tell everybody getting closer to the show the vets are watching, the riders getting more and more in the show mood," Patrik Kittel wrote.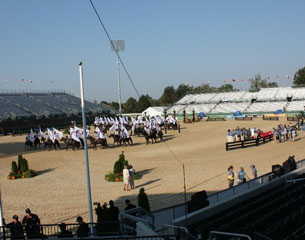 British team rider Fiona Bigwood wrote that team GB trained in the 10 minute rings for the first time yesterday. "All GB horses worked well," she said. "There was a lot going on but they have a few days to get use to it. The security here is very tight. You have to have your bags checked on entry to the show ground." The Brits spent the afternoon at a shopping mall. "There is nothing like a bit of retail therapy," Fiona joked.
The Dutch had a quiet day yesterday. Edward Gal's business partner and eyes-on-the-ground Nicole Werner did some chilling at the pool and Edward joined her. "Totilas had a day of rest today, and so did I," Gal wrote. Sushi addict Hans Peter Minderhoud had his first dinner of American-style sushi. Pretty similiar to the European sushi served, only with more sauce.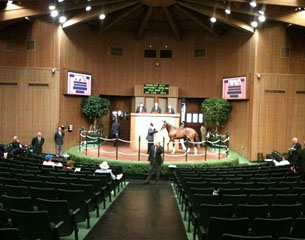 Like other teams before them, the German went on tour to the Keeneland racetrack and the auction centre where thoroughbreds are being sold. "It's all very interesting and new to us," said Matthias Rath. Rath's horse Sterntaler got a break today and only went out on the track for some walking. Christoph Koschel was also impressed with Keeneland. "They only race here twice a year for 14 days. A box for six persons costs 70,000 euro and you have to book it for three years," said Christoph. He was amazed by the 1,5 year olds he saw at the auction. "Amazing how mature these thoroughbreds look at that age and for which prices they sell. Within two minutes the limit of 2 million euros was reached at auction."
Brett Parbery joked that he never had such a nice birthday party before at WEG. "Having a great birthday....and everyone has bought their horse to my party," he quipped.
Irish individual rider Judy Reynolds wrote that her horse Remember was not strained by the long flight to Kentucky. "Rode Remy today, he was bucking and taking off so not tired after his flight anyway," said Reynolds.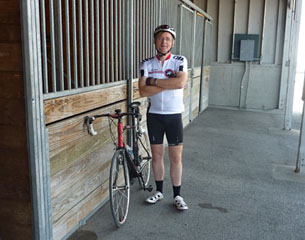 Luxembourg rider Gaston Chelius is blogging from Lexington. Bsides his horse Flamenco and girlfriend Kristina Moller he's accompanied by veterinarian Baltus. "A real Luxembourger brings his bike all the time everywhere," Chelius wrote about Dr. Viktor Baltus.
U.S. team rider Debbie McDonald is flying to California to celebrate Guenter Seidel's 50th birthday
Besides all riders, the media is slowly arriving at the World Equestrian Games. Eurodressage's in-house photographer and long time friend Dirk Caremans is one of the official FEI photographers and also works for many major European equestrian magazines. He has the most amazing database with over one million photos (check it out at www.caremans.be). Dirk alerted his colleagues t bring "your walking boots you going to need them ! Distance between media center and Reining hall about 2 km."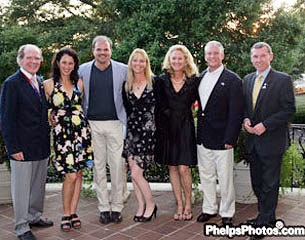 Dressagedaily.com's Mary Phelps and her wonderful husband JJ Hathaway hosted an incredible party on Wednesday evening at Spindletop Hall which was attended by the U.S. Dressage team as well as by Dr. Pearse Lyons, Alltech CEO and title sponsor of the WEG, and John Nicholson, the Kentucky Horse Park director. Mary invited Dr. Lyons and John Nicholson at the last minute as soon as the party was coordinated and they came and spent the entire evening. Take about a high profile party! Read more about the Meet & Mingle on Dressagedaily.com
The Horse Magazine's assistant Shannan Makauskas has arrived at Kentucky as well. In her blog Shannan wrote which all journalists experience when they travel: "My carry-on is also over the weight limit and I'm not surprised. I've got a massive camera, two lenses, a laptop, a video camera, a voice recorder and the many other foreign items women keep in their purse. In other words I'm the new cart-store branch for Harvey Norman. This is the 8kg bag I have to carry around every day in Lexington! On the bright side I may build some muscle."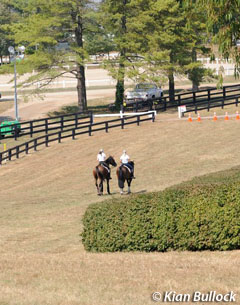 Our favourite Canadian blogger Karen Robinson is camping near the Daniel Boone National Forest, which will be her base during the WEG. "I know there are many of you who either can't make it to WEG or decided you would say 'no thanks' to the grossly inflated prices that pass for Kentucky's tourism philosophy (if you are going to charge what the market will bear, you'd better do some research first and make sure you know what the max load limit is - $400 a night for a ratty mobile home is equivalent to pulling a four horse Sundowner with living quarters using a 1980 Chrysler K-car). Since I can't bring you to the event, I'll do my very best to bring the event to you," Karen wrote. Make sure you follow her blog Straight Up!
Photos © Koschel, Phelps, Bullock
MAKE SURE YOU FOLLOW US also on Twitter and Facebook!!
Back to the 2010 WEG index