2010 World Equestrian Games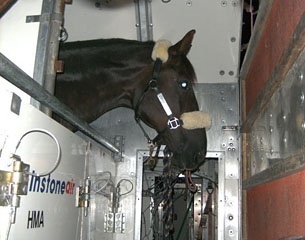 The largest commercial airlift of horses ever undertaken for a single event took off from Belgium this week heading for the 2010 World Equestrian Games in Lexington, KY, USA. Almost
450 horses depart from Europe over a 14 day period from September 16-29.
An additional 54 horses fly from Australasia and South America ready to  compete in eight different disciplines at the World Equestrian Games (25 September - 10 October).
The Dutch, German and Spanish horses have already arrived in Cincinatti at the quarantine centre. The journey was uneventful for horses such as WEG gold medal hopeful Totilas and German team horses Warum Nicht, Dablino, Donnperignon and Sterntaler. Even the horse of Italian individual rider Bordone is in the U.S.A. despite the paradoxical fact that the Italian Equestrian Federation still has not officially announced which riders are allowed to compete for Italy at the World Equestrian Games.
Dressage-news reported that the flight with the dressage horses was "the first of 11 flights to bring about 450 horses from Europe and the Middle East. Another 50 horses from Latin America are being flown into Miami while about 20 from across the Pacific were shipped into Los Angeles."
Related Link: Quarantine Facility Ready for 2010 WEG Equine Athletes
Back to the 2010 WEG index