Danish Warmblood Breeding News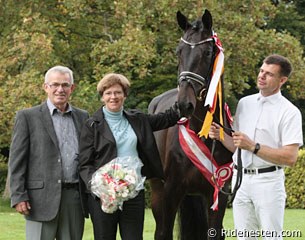 The black Danish bred mare Sirikit has been proclaimed Danish Warmblood Mare of the Year 2010. Forty-one newly graded mares were awarded breeder medals
at the Dansk Varmblod Elite Show in Vilhelmsborg 10 - 12 September 2010. Four mares were selected for the champion ring:
Out of the 41 mares decorated with breeder medals 23 mares were awarded a bronze medal, 14 achieved a silver medal whilst four mares were selected for the champion ring and awarded gold medals.
The two dressage mares in the champion ring both showed exceptional functionality under their riders. Sirikit was presented by John Hvalsøe Saul while Holballes Deeba was ridden by Michael Grønne Christensen. The gold medal mares are:
Sirikit (by Blue Hors Hotline x Blue Hors Don Schufro)
Breeder and owner: Peter Christensen, 4900 Nakskov
Holballes Deeba (by De Noir x Resident)
Breeder and owner: Bianca og Carsten Jefsen, 6470 Sydals
Sirikit was proclaimed champion dressage mare 2010 and was described by breeding inspector Karina Christiansen on behalf of the judges as "a wonderful mare in a class of her own. She is noble, long-legged and very elegant. She moves with extreme suppleness in all
three gaits which are big and roomy with much rhythm, swing and carriage." Sirikit meets the highest international standars, and the judges expressed their excitement about this mare as a future sport horse.
The two jumping mares in the champion ring both received 2 x 9 for jumping. They are:
Lajgårdens Chicota (by Chico's Boy x Alcatraz)
Breeder: Karina Josefsen, 6731 Tjæreborg - Owner: Stutteri Aagaarden by Hanne Aagaard, 7100 Vejle
Birkegårdens Choise (by Carson Ask x Calato Z)

Breeder and owner: Heidi Rasmussen, 9440 Aabybro
The beautiful Lajgaardens Chicota was awarded the title champion jumping mare 2010. She is a very feminine, expressive and well-built mare in large frames. Her canter is always well-balanced and shows a lot of self-carriage. Over the fences Chicota displays great overview and a lot of capacity, the judges commented.
Photo (c) Ridehesten.com
Related Links
Outstanding Mares Coming to 2010 Danish Warmblood Elite Mare Show
Dancing Boy and Stigma, Danish Dressage Foals of the Year 2010
Dancing Boy, Price Highlight of 2010 Danish Warmblood Foal Auction