Danish Warmblood Breeding News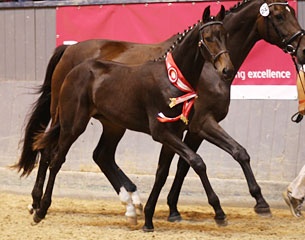 Fifty-five foals were auctioned on Saturday night at the 201 Danish Warmblood Foal Auction on 11 September 2010. Thirty-four of them changed ownership for 7,700 euros on average.
Many quality foals of highly interesting bloodlines were sold for very reasonable prices.
Most expensive foal was the champion dressage colt foal Dancing Boy by Dancier x Blue Hors Romanov which sold for 21,000 euros. This fabulous mover is out of the same dam line as third best dressage horse in the world, Mistal Højris, and sold to Steffen Kristensen, Harlev J in Denmark.
Second highest price was paid for the filly Møllegårdens Kompliment by Jazz x Bøgelys Camaro which sold to Per Skjærbæk, Nykøbing Mors in Denmark for 19,000 euros. This filly is out of the same dam who has previously had the two most expensive foals at the Elite Foal Auction ever.
K. Gjerde & JJ Horses in Norway bought Day-Lights Jackpot by Johnson x Show Star for 16,000 euros and Hefeistoz Grønvang by Blue Hors Zack / Gribaldi for 15,000 euros.
Norwegian Kristian Wold from Mikri A/S purchased Atterupgaards Foxtrot by For Compliment / Gribaldi for 13,500 euros and champion dressage filly foal Stigma by Tailormade Temptation / Sandro Hit was equally sold to Norway. She was acquired by Hanne Hertzberg for 10.000 euros.
Related Link
Dancing Boy and Stigma, Danish Dressage Foals of the Year 2010