Verden Auction News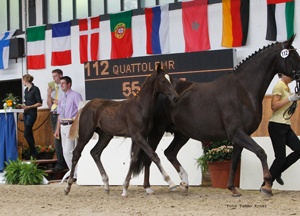 The chestnut Hanoverian colt Quattoleur (by Quando Quando x Donnerhall) became the price highlight after three auction days at the Hanoverian Sport Horse Centre in Verden . Bred by Gabriele Berner, the chestnut sold for 55,000 euro to Bavaria.
Two hundred fifty-nine foals sold in total this year in Verden and thirty-four foals achieved a knock down price of more than 10,000 euro. The average price for a foal was 6,885 euro. A little less than half of the foals sold abroad. Twenty-one of them sold to Sweden.
Fourteen broodmares were offered at auction. The best selling mare was State Premium Mare Hosianna (by Hohenstein x Pik Bube I) in foal to Desperados. She sold for 30,500 euro to Nordrhine-Westfalia.
Photo © Tammo Ernst
More Verden Auction News