2010 Belgian Dressage Championships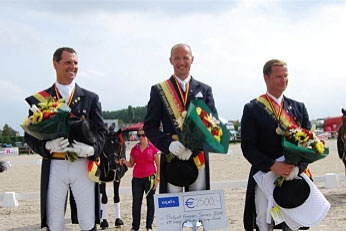 Jeroen Devroe captured his sixth Belgian Grand Prix Champion's title at the 2010 Belgian Dressage Championships hosted at Stable Hulsterlo in Meerdonk, Belgium, 19 - 22 August 2010. The Belgian WEG team riders were battling for the medals and it proved to be a tough fight between Devroe and Van Ingelgem for gold.
Aboard the Belgian warmblood Apollo van het Vijverhof (by Welt Hit II x Ritmeister) Devroe clinched the gold by winning the Grand Prix (71,319%) and Kur to Music (74,250%). Stefan van Ingelgem and the Belgian warmblood stallion Whitney van 't Genthof (by Ferro x Balzflug) earned the silver. Van Ingelgem was the best in the Grand Prix Special (70,750%) but twice placed behind Devroe in the other two rounds. The overall difference was petite as Devroe took highest honour with 215,986 and Van Ingelgem got silver with 214,698. The bronze went to a consistently performing Philippe Jorissen who thrice placed third aboard the Oldenburg bred Le Beau (by Le Coeur x Classiker).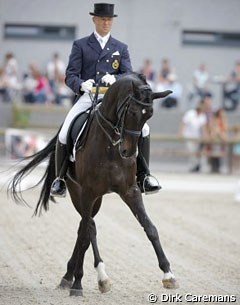 "This was the toughest victory ever for me," admitted the Nieuwrode based Jeroen Devroe after winning the national title for the 6th time. "I had to work really hard at it, but that's only positive for our sport in Belgium as we now have about six top combinations. With the World Equestrian Games in store I focused more on the Grand Prix Special than preparing for the Belgian Championships. Maybe Apollo was a bit less sharp because of this but today in the Kur he went much better."
Devroe's full attention is now on Kentucky. "Apollo gets a few days rest and then we'll build up for Kentucky. I'm going to pay attention to keeping his supple and loose. He has a long journey ahead of him and we'll have to wait and see how he'll react to it."
When asked what he thinks the Belgians will do in Kentucky, Devroe replied, "It would good if we could all perform at our level and get the points for that. Kentucky will be one big experienced leading up to the 2012 Olympic Games in London. In principle we should be able to get three combinations in the Grand Prix Special."
Larsson, Mommen, d'Hoore Win Gold in Youth Riders Championships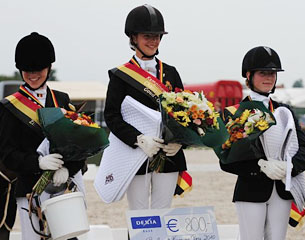 The Belgian Grand Prix Championships coincided with the nationals for FEI Pony Riders, Junior and Young Riders. Leyla Larsson, Mieke Mommen and Brecht D'Hoore claimed gold in their age division. 
Belgian-Swedish born Leyla Larsson and her own 7-year old Hanoverian bred liver chestnut gelding Berlioz (by Benneton S) won the gold in the Pony division. Larsson placed first in the Team championship test (68,333%) and was twice second in the individual and kur (69.789% an 69.700%). Larsson totaled 207,822 points and referred Charlotte Defalque on the Belgian Riding Pony gelding Epiascer (by Large River Cleopas) to the silver medal position (207,101). The title hopeful and best performing Belgian at the 2010 European Pony Championships, Alexa Fairchild on the palomino stallion Stukhuster Ricardo Go for Gold, ended up with bronze. After a very unsettled ride in the team test (62,611%) it was very difficult for the 15-year old to climb her way back up to the number spot. Despite winning the individual (70.211%) and the Kur (70.000%) her total of 202,822 was five percent short of gold.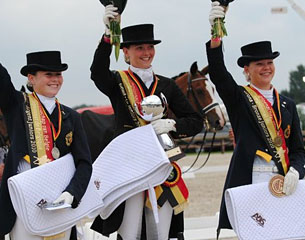 Junior rider Mieke Mommen was undefeated in her division. Aboard the fantastic bay Oldenburg gelding Rocky (by Rockwell x Amalfi) Mommen won all three rounds with solid 70 percentage marks. With 71,784% in the team test, 72,684% in the individual and 73,950% in the Kur, Jeroen Devroe's student had no trouble keeping silver medallist Julie van Olst at bay (218,418 total score). Van Olst and her 7-year old Dutch bred No Problem (by No Limit) was three times second and totaled 209,379 points. The fight for bronze was tough between Eline de Coninck and Laurence Roos but the latter followed through. Riding her father's Belgian warmblood Amabaro Saturnus (by Montechristo x Balzflug), Roos earned a total of 205,384 points, whereas Eline de Coninck and her powerful liver chestnut Don Warohn (by Dormello) scored a 204,858 total to place fourth.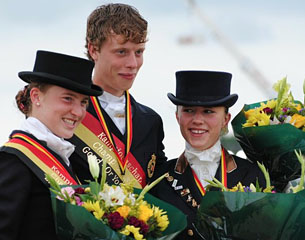 Trained by Hans Peter Minderhoud and his father Paul d'Hoore, young rider Brecht d'Hoore was unchallenged in the Belgian Young Riders Championships. Aboard the chunky liver chestnut gelding Sital (by Metall), D'Hoore freewheeled to victory with 72,053% for his team test, 71,105% for the individual and 72,900% for the Kur. With a total of 216,058 points D'Hoore was far ahead of silver medallist Tahnee Waelkens on her long-legged bay gelding Sandiegobese, an 11-year old Dutch warmblood gelding by Feliciano x Highline. She finished second with a total of 208,361, while third placed Saidja Brison and her charming dark bay Swedish bred Moliere (by De Niro x Amiral) got bronze with a total of 206,153.
Photos © VLP, Dirk Caremans, Glenn Maes
Related Links
Scores 2010 Belgian Dressage Championships 
Goris, Mommen, D'Hoore and Devroe 2009 Belgian Champions