2010 World Equestrian Games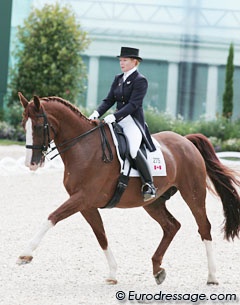 While the 2010 Canadian WEG team riders were named on Friday 6 August 2010, the reserve riders were only announced four days later on Monday 9 August 2010. Wendy Christoff and Evi Strasser have been nominated as Canadian team reserves.
Dressage Canada's WEG Selection committee selected Christoff with the 16-year old Hanoverian Pfalstaff and Evi Strasser on the 15-year Oldenburg Quantum Tyme.  Both are invited to the training camp at Kathy Priest's Woodspring Farm in Versailles, KY, as of 15 September 2010. 
Team trainer Robert Dover commented that, "like our team riders, they have exemplified talent, focus, and dedication necessary to achieve excellence.  I also want to mention both Cheryl Meisner and Shannon Dueck who both decided to remain with their horses in Europe to compete further, in both cases decisions I respect and support.  All of these riders have shown tremendous effort and made great sacrifices to be where they are and I am very proud to be associated with all of them!"
Photo © Astrid Appels
Back to the 2010 WEG Index