2010 Bundeschampionate Qualifiers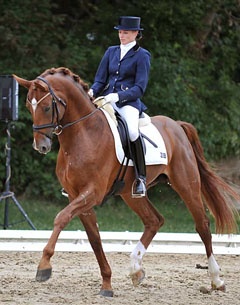 A large field of competitors travelled to the regional show in Elmlohe, 30 July - 1 August 2010, in an attempt to qualify for the Bundeschampionate. Out of 33 horses, only one was able to achieve the qualification criterium of 8.0 or higher and that was the 5-year old Bellagio.
Anna Sophie Fiebelkorn and the 5-year old licensed Hanoverian stallion Bellagio (by Belissimo M x Davignon I) scored 8.0 to win the L-level test. The chesnut stallion was discovered by Reitschule Sandbrink and sold as a 3-year old to Sylvia Stute. Anett Kumpe and the Hanoverian Hennessey (by Hochadel) finished second with 7.8.
The highest scoring combination in the 6-year old dressage horse test was Manuel Bammel on Dame Maggio (by Dimaggio x Akzent II). This pair achieved 7.7 and referred Steffen Frahm on Doug and Louise Leatherdale's First Dance (by Florestan) to a second place with 7.4.
Photo courtesy: Ruchel/Elmloher Dressurtage
Results
5-year old Dressage Horses
1 Bellagio - Fiebelkorn, Anna-Sophie - 8.00
2 Hennessey - Kumpe, Anett - 7.80
3 Calimero M - Burfeind, Hartwig - 7.70
3 Fürstano - Burfeind, Hartwig - 7.70
5 Rousseau's Topas - Hannöver, Iris- . 7.40
5 Chica Nova - Marrancone, Julia Fehmarnscher - 7.40
7 Divino - Brünger, Friederike - 7.30
7 Don Philippo - Mangelsdorf, Hans-Dieter - 7.30
7 Skyline - Seebauer, Nadine - 7.30
10 Dorian Gray - Alkenings, Katrin - . 7.20
10 Sir Westerland - Wandres, Frederic - 7.20
10 Daikiko - Pohlmeier, Anne-Kathrin - 7.20
10 Hennessy - Strodthoff-Schneider, Eike-Thea - 7.20
14 Hamilton - Almeida Pavao, Pedro - 7.10
14 Weideglück - Boller, Nina - 7.10
16 Hofjuwel - Blanken, Stefan - 7.00
17 Haya - Bürmann, Meike - 6.90
18 Dark Dossier - Henjes, Steffen - 6.80
18 Fantasia - Waaden, Friederike von - 6.80
20 Scivias - Feddersen, Anne - 6.70
Scaramanga - Gießelmann, Jan-Dirk - ELI
Desperados - Keller, Kathleen - RET/DNS
Dauntless - Ramcke, Bianca - RET/DNS
6-year old Dressage Horses
1 Dame Maggio - Bammel, Manuel - 7.70
2 First Dance - Frahm, Steffen - 7.40
3 For Compliment - Fiebelkorn, Anna-Sophie - 7.30
3 Lord - Keller, Kathleen RV Harsefeld u.U. 7.30
5 Riva - Hermelink, Anja - 7.20
6 Rialto Star - Yubero Prieto, Laura- 7.10
7 Dumont - Nielsen, Vivien - 7.00
8 Rodolfo - Brünger, Friederike - 6.90
8 Royal Doruto - Tietjen, Sylke - 6.90
10 Hendrix - Frahm, Steffen - 6.80
11 August der Starke- Pohlmeier, Anne-Kathrin - r 6.60
12 Ayers Rock- Bültjer, Erik - 6.50
Back to the 2010 Bundeschampionate Index