2010 World Equestrian Games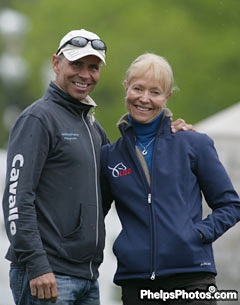 America's leading Grand Prix rider, Steffen Peters, will not be competing Akiko Yamazaki's Dutch warmblood gelding Ravel (by Contango) at the 2010 U.S. WEG Selection trials held at the USET headquarters in Gladstone, NJ, mid August.
The United States Equestrian Federation has approved Steffen Peters' request not to attend the USEF Selection Trial for the 2010 World Equestrian Games Team for logistical reasons.
The USEF Selectors met on July 27 to approve his request to be considered for the Short List/Nominated Entry and Fourth position on the team without attending the US WEG Selection Trials in accordance with USEF World Equestrian Games Dressage Criteria.
"If named to the Short List/Nominated Entry Steffen plans to attend the mandatory training session which begins on September 4," USEF released in an official statement. "The Short List/Nominated Entry will be announced following the Selection Trial which ends August 15. The Definite Team will be announced on or about August 21, 2010."
Photo © www.phelpsphotos.com
Back to the 2010 WEG index