2010 Bundeschampionate Qualifier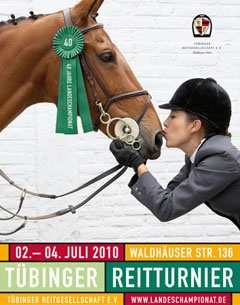 Jazzqueen and Dardanos won the Bundeschampionate qualification classes at the Baden Wurttemberger Regional championships held in Tübingen, Germany, 2 - 4 July 2010. Both horses achieved the highest total score to win the class but their mark was not enough to get a ticket for Warendorf.
In the 5-year old division the northern based Katrin Burger won with the bay Baden Wurttemberger bred mare Jazzqueen (by Jazzman x Don Primero). Though the pair had 8.5 for trot and 8.0 for canter and general impression, a 7.5 for walk and 7.0 for looseness pushed the score down to a 7.8 total. The combination already qualified for the Bundeschampionate at the trial in Uberherm in May. Kristin Karlisch and the dark bay Oldenburg gelding Don Glory (by Don Primero x Glorieux) finished second with 7.70, tying with Irina Oberthur on the Trakehner licensed stallion Kronprinz.
Julia Elsässer and the Westfalian bred Dardanos (by Dali X x Alabaster) won the 6-year old dressage horse test with 7.70. They beat Sabrina Schrödter on the Hanoverian mare Soraja (by Show Star x Wolkenstein II).
Results
5-year old dressage horses
1. Jazzqueen - Burger,Katrin - 7.80
2. Don Glory - Karlisch, Kristin - 7.70
2. Kronprinz - Oberthür,Irina - 7.70
4. Birkhof's Sirtaki - Stankus,Falk - 7.50
5. Special Dance - Karlisch, Kristin - 7.30
6. Daktari - Carras,Stephanie - 7.00
7. Dottoressa K - Knoll,Andrea - 6.90
8. Fürst Hohenstein - Pelz,Birgit - 6.40
9. Say it Right - Gerdes,Hermann - 6.30
6-year old dressage horses
1. Dardanos - Ellsässer,Julia - 7.70
2. Soraja - Schrödter,Sabina - 7.60
3. Davino - Schrödter,Jörg - 7.50
4. Tennessee State Flower - Domanski,Nadine - 6.60
Back to the 2010 Bundeschampionate index