2010 Bundeschampionate Qualifier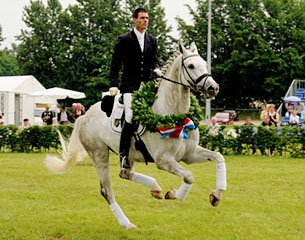 Belgian rider Jan Lens and Holsteiner stallion De Chirico made their mark in the Bundeschampionate qualification classes at the Schleswig-Holstein qualifier in Schenefeld, 25 - 27 June 2010.
In the 5-year old division Belgian Jan Lens reigned supreme with Pamela Vorwerk's 5-year old grey Holsteiner gelding Chapot (by Calato x Aljano). Last year Chapot was still jumping courses but in 2010 Gestut Tasdorf employee Lens has been focusing him on dressage. Lens also finished second with Petra Wilm's dark bay Holsteiner gelding Chaplin (by Castellini x Schampus xx). He scored 8.10 and 7.40 to take the two highest positions in the ranking. Hannes Krüger and the Holsteiner mare Acodetta (by Acodetto I x Carry) finished third with 7.20.
Markus Suchalla and the Holsteiner stallion De Chirico (by Dolany x Linaro) were victorious in the 6-year old dressage horse class. The duo scored 8.0 and topped the leader board. Mike Bünger and the chestnut Hanoverian licensed stallion Dycos d'Or (by Don Marcello x Weltmeyer) finished second with 7.6. They tied with Jan Lens on the Holsteiner stallion Anuk (by Almoretto x Latino).
Photo courtesy Holsteiner Verband
Results
5-year old Dressage Horses
1 Chapot - Lens,Jan - 8.10
2. Chaplin - Lens,Jan - 7.40
3. Acodetta - Krüger,Hannes - 7.20
4. Obivan L - Lehmann,Ina Nicola - 7.00
4. Leones - Svenson,Nadine - 7.00
6. Linus L-T - Mohr,Susanne - 6.90
7. Donington - Cassel,Anja - 6.70
7. Point Fashion - Jaeger,Marie - 6.70
Lambourghini - Loison,Raphael - RET
6-year old Dressage Horses
1. De Chirico - Suchalla,Markus - 8.00
2. Dycos D'Or - Bünger,Mike - 7.60
2. Anuk - Lens,Jan - 7.60
4. Skyline - Lebens,Christina - 7.50
4. Rialto Star - Yubero Prieto,Laura - 7.50
6. Quattrocchi - Oetjens,Eva - 7.40
6. Al Martino - Schierloh,Wolfgang - 7.40
8. Fürst for you - Teschke,Natascha - 7.20
9. Fürst Fridolin - Steen,Inger Jane - 7.10
10. Dumont - Nielsen,Vivien - 6.90
11. US - Beauty - Mohr,Susanne - 6.20
Back to the 2010 Bundeschampionate index