2010 World Championships for Young Dressage Horses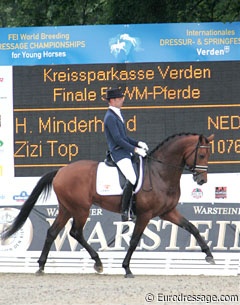 Two licensed Dutch warmblood stallions, have been withdrawn from 2010 World Young Horse Championship contention. Both 5-year old Apache and 6-year old Zizi Top have been scratched from the Dutch WCYH long list.
Multiple World Young Horse Championship winner Hans-Peter Minderhoud reported on his website on 13 June that Zizi Top (by Tango x Ferro x Officier) has been withdrawn following an air way infection which caused the bay to be behind on his training schedule. 
"It wouldn't be fair to Zizi Top to start training him hard for Verden. He has already done enough in his young life and I don't want to force him," said Hans Peter. "We are aiming long term. It's pity because Verden is a nice show."
Emmelie Scholtens and owner Ad Valk decided to pull Apache (by UB40 x Krack C x Inspekteur) out of the running. The combination of a busy breeding season and high level young horse competition has become too much for the dark bay colt. The rider and owner decided to focus on the Pavo Cup instead.
The long listed Dutch young horses were invited for a training seminar in Ermelo for the first time again since April. On 8 June 2010 the KWPN/KNHS selection committee gathered to look at the condition of the youngsters as well as give them pointers for training.
The current long list includes: 
5-year olds
Aaron (Florencio x Record) – Jana Freund
Aendolyn (Krack C x Donnerhall) – Vai Bruntink
Androdine (Sandro Hit x Rubinstein I) – Margreet Prosman
Anne Beth (Oscar x Corleone) – Vai Bruntink
Annerijke (Jazz x Gribaldi) – Jennifer Sekreve
Aston Martin NL (Uphill x Cabochon) – Christa Laarakkers
Astrix (Obelisk x Olivi) – Emmelie Scholtens
Broere Argentino (Jazz x Ulft) – Kirsten Beckers
Presidents Allright (Jazz x Royal Dance) – Laurens van Lieren
TC Athene (United x Jazz) – Jessica Buying
6-year olds
Zambuka (Scandic x Biotop) – Jennifer Sekreve
Zamora (Krack C x Farrington) – Lynne Maas
Zarah (Oscar x Montecristo) – Lotje Schoots
Zhivago (Krack C x Jazz) – Theo Hanzon
Zico (Riant x Ferro) – Stephanie de Ruiter
Ziësto (Lancet x Clavecimbel) – Gerdine Maree
Zjengis Khan (Rousseau x Rubinstein I) – Nikki Schaap
Zolena (Sir Sinclair x Cabochon) – Annarein Kerbert
Back to the 2010 WCYH Index