2010 CDI Lingen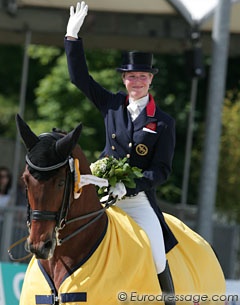 British Laura Bechtolsheimer and Canadian Ashley Holzer divided four trophies amongst themselves at the 2010 CDI Lingen, June 3 - 6, 2010. Laura B, who returned to the show ring after being sidelined due to minor surgery, immediately found her form again and won three out of four classes. Holzer only arrived in Europe one week ago but put herself straight away in the winner's circle capturing the Freestyle victory.
The Return of Alf
Bechtolsheimer and her 15-year old Danish warmblood gelding Mistral Hojris (by Michellino) made their mark winning the Grand Prix Special on Sunday with 79.46%, more than two points higher than Germany's own Isabell Werth on 77.21%. The high mark capped off a full weekend for Bechtolsheimer who enjoyed equal success on both GP mounts Mistral Hojris and Andretti H.
Bechtolsheimer made a clear power statement twice pushing Germany's number one rider Isabell Werth on Satchmo into second place. Laura also won the GP for special aboard "Alf" on Saturday with 76.89%, whereas Werth became runner-up with 75.83%.
Laura, who's recently been out of action recovering from surgery, was understandably happy with the result. She told British Dressage, "I'm so pleased with the weekend, I haven't been out competing in a couple months and Alf hasn't been out since January, so to come back with such a solid performance from both horses is really reassuring and motivating for the rest of the season. It was so warm in Lingen and was a great way to prepare for summer competition."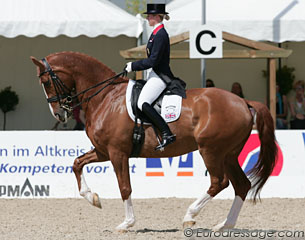 With Andretti Laura took the Grand Prix on 71.66% ahead of German 2009 EC team rider Ellen Schulten-Baumer on Donatha. She also finished a close second on 76.15% in the Freestyle to Canada's Ashley Holzer and Pop Art on 76.30%.
"Andy performed really well in the Grand Prix and helped get me back in the swing of things. Alf had more of a rough start as I think some sweat got in his ear and he started to shake his head quite violently before the test. I thought it was game over, but luckily he got his concentration back and went on to win the class. However it wasn't until the next day in the Special that he really came into his own and a despite a mistake in his one tempi changes he felt amazing — better than he did in Windsor!"
Holzer On Top in the Freestyle
Three-time Canadian Olympian Ashley Holzer won the Grand Prix Freestyle at Lingen. On the second stop of the Dressage Canada European Tour, Holzer and her 2008 Olympic partner Pop Art (by Amsterdam x Cabochon), earned a score of 76.300%. The 13-year-old Dutch Warmblood gelding beat Bechtolsheimer and Andretti H (by Aarking xx)
Holzer also competed in the Prix St. Georges/Intermediaire I with Jewel's Sonnenstern (Sandro Hit x Sion), an eight-year-old Oldenburg stallion owned by Jewel Court Stud VS. They placed third with 68.947% in the Prix St. Georges test and fourth in the Intermediaire I test, scoring 68.105%.
"Last night in front of fantastic crowds Ashley Holzer produced Canada's first win on our European Tour in the Grand Prix Freestyle," Canadian team trainer and chef d'equipe Robert Dover wrote in his blog. "She rode a great test which can still produce easily over 80% but for a few tiny bobbles and we all were so proud as the Canadian flag was raised while the anthem played. Several people joked with me saying they had not remembered what the Canadian Anthem sounded like and I told them to get used to it!
Our group is workimg very hard and I feel that each rider is gaining a huge amount from this tour."
The international judging panel for the CDI 4* included Katrina Wust (FEI O—GER), Dr. Dietrich Plewa (FEI O—GER), Peter Engel (FEI I—GER), Ghislain Fouarge (FEI O—NED), Isobel Wessels (FEI I—GBR), Leif Tornblad (FEI O—DEN), and Dr. Vincenzo Truppa (FEI I—ITA).
Partial Text Source: BD/Equine Canada
Check the Eurodressage Photo Gallery and commentary below
Related Links
Scores: 2010 CDI Lingen
Bechtolsheimer Returns to Triumph at 2010 CDI Lingen