2010 Ecco Cup Qualifier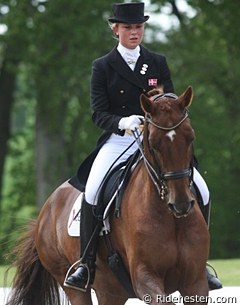 Caroline B. Smidt, Christine Møller and Anna Kasprzak pushed for power at the Ecco Cup qualifier for Pony, Junior and Young Riders at the national show in Broholm, Denmark, 20-24 May 2010.
It came as a big surprise that none of the Danish youth riders were present at the CDIO-PJYR Moorsele, but that was because they were asked to compete at the Ecco Cup show in Broholm, which served as a team qualification event for the 2010 European Pony, Junior and Young Riders Championships.
In the FEI pony division Caroline Bording Smidt and her 8-year old liver chestnut stallion Campari W (by Champagner x Derano Gold) were unbeatable in all three rounds. In the Kur to Music the pair scored 75.58% and beat Anne Fabricius Tange on the chestnut gelding Tim (73.00%).
In the Junior riders classes, Christine Møller won the Kur to Music aboard Wizard of Oz with 75.00%. They referred Cathrine Dufour and Don Dino (by Don Cardinale) to a second place. The winner of the first round, Nanna Skodborg Merrald, finished third with Millibar and fourth with her other ride JJ Rocco.
Young rider Anna Kasprzak also saddled two horses for the Ecco Cup qualifier and it was her mare Langkjærgaards Donna Fetti which twice reigned supreme. Kasprzak and Donna Fetti competed at the 2006 World Young Horse Championships but afterwards the mare disappeared from the scene due to health issues. The mare had a rare case of ovarian cystes which disrupted her hormonal balance and turned her into a wild "stallion". The cystes were treated and Donna Fetti became her usual self again: a top quality, super moving dressage horse. Rikke Bøllingtoft and Finale placed second in the kur with
72,25%
Photo and video © Ridehesten.com
Results
Pony Riders - Round 1
1. Caroline Smidt - Campari W - 70,56
2. Sofie Hougaard - Dornick Son - 70,00
3. Ida Sofie Daugaard Hulstrøm - Centrum - 69,81
4. Anne Fabricius Tange - Tim - 69,54
5. Emilie Holm Toft - Dream Girl - 69,35
6. Frederik Larnæs - Lucas - 67,96
7. Maya Jørgensen - Modderbeeks Flo - 66,67
8. Sabrina Barnekow- Vermont - 66,02
9. Victoria E. Vallentin - Bell - 66,02
10. Christina Juul - Peppino - 65,93
11. Katrine Gammelgaard Loft - Zendro - 65,46
12. Simone Barnekow - Kinski WE - 65,46
13. Lise Friis Jakobsen - Palermo - 65,37
14. Sofie Hougaard - Dornika - 65,28
15. Maria L. Pedersen - Windor von Gwick - 64,91
16. Cathrine Hansen - Kalita - 64,54
17. Maria Vesterholm - Sofus - 64,35
18. Trine Reinholt - Ashley - 63,80
19. Maja Andreasen - Armando - 63,70
20. Rikke Gejlsbjerg Iversen - Elmholts Atila - 62,96
21. Simone Westergaard - Dornik Pur - 62,96
22. Mette Møller Andersen - Fredslunds Complet - 62,78
23. Caroline Hartmann - Rvialdo - 61,57
24. Marie Biune - Tracey - 61,39
25. Elisabeth Bendix Aas - Lauser - 60,46
26. Pernille Harmsen - Danubio - 60,09
27. Regitse Rubæk - Krogårdens Hunter - 59,63
Pony Riders - Round 2
1. Caroline B Smidt - Campari W - 72,8
2. Anne Fabricius Tange- Tim - 72,02
3. Sofie Hougaard - Dornick Son - 70,70
4. Ida Sofie Daugaard Hulstrøm - Centrum - 68,86
5. Maja Andreasen - Armando - 68,25
6. Emilie Holm Toft - Dreamgirl - 68,07
7. Simone Barnekow - Kinski - 67,98
8. Sofie Hougaard - Dornika - 67,81
9. Christina Juul - Peppino - 67,81
10. Pernille Teidor Olesen - Fontain Ad Stensnaes - 67,72
11. Sabrina Barnekow - Vermont - 67,72
12. Rikke Lauritsen - Kasanto - 67,54
13. Frederik Larnæs - Lucas - 67,19
14. Katrine Gammelgaard Loft - Zendro 66,93
15 Emma GLud Jørgensen - Lanciano Kaerlund - 66,49
16. Victoria E. Vallentin - Bell - 66,40
17. Celine Boddum Clausen - Hynderhoeve's Ramses - 65,88
18. Maria Vesterholm - Houmarks Sofus - 65,70
19. Anne-Mette Strandby Hansen - Cuba - 65,44
20. Cathrine Hansen - Kalita - 65,35
21. Lise Friis Jakobsen - Palermo - 64,91
22. Bianca Walton - Norlunds Cape Town - 64,91
23. Maria L. Pedersen - Windor vom Gwick - 64,82
24. Caroline Aarosin - Lucci - 64,82
25. Katrine H. Hoxer - Vasehoj Kashi - 64,65
26. Sofie Thode - Fuglekildes Macoy - 64,56
27. Alexandra Sørensen - Kloosters Eltino - 64,30
28. Camilla Nicole Nielsen - Grusgards Sorte - 64,12
29. Mette Møller Andersen - Fredslunds Complet - 64,12
30. Trine Reinholt - Ashley - 64,12
31. Simone Westergaard - Dornik Pur - 63,68
32. Elisabeth Bendix Aas - Lauser - 63,60
33. Rikke Gejlsbjerg Iversen - Elmholts Atila - 63,42
34. Julie Jensen - Oleander - 63,42
35. Regitse Rubæk - Krogardens Hunter - 62,72
36. Annika Kjersgaard Hansson - Bel de Ricci - 62,28
37. Caroline Hartmann - Rivaldo - 62,11
38. Pernille Harmsen - Danubio - 61,75
39. Marie Skov Olesen - Norlunds Westpoint - 61,23
40. Katrine Thinesen - Adelaide - 57,98
41. Jeanette Haugaard - Marietons Sanssousi - 57,28
42. Maya Jørgensen - RET
Pony Riders - Kur to Music
1. Campari W - Caroline B. Smidt - 75.58
2. Tim - Anne Fabricius Tange - 73.00
3. Vermont - Sabrina Barnekow - 71.92
4. Kinski We - Simone Barnekow - 71.67
5. Dornick-Son - Sofie Hougaard - 70.83
6. Armando - Maja Andreasen - 68.75
7. Centrum - Ida Sofie Daugaard Hulstrøm - 68.67
8. Zendro - Katrine Gammelgaard Loft - 68.08
9. Dreamgirl - Emilie Holm Toft - 68.00
10. Dornika B - Sofie Hougaard - 67.58
11. Kasanto - Rikke Lauritsen - 67.50
12. Lucas - Frederik Larnæs - 67.08
13. Peppino - Christina Juul - 66.50
14. Lanciano Kærlund - Emma Glud Jørgensen - 65.33
15. Fontain Af Stensnæs - Pernille Teidor Olesen - 65.17
Junior Riders - Round 1
1. Nanna Skodborg Merrald - JJ Rocco -
71,84
2. Christina Møller - Wizard of Oz - 69,12
3. Nanna Skodborg Merrald - Millibar - 68,33
4. Charlotte Aarestrup Bruun - Tai Nin - 66,23
5. Cathrine Dufour - Don Dino - 65,96
6. Silke Frederikke Fersner - Roche Royal - 65,88
7. Melina Iversen - Heslegards Lully - 65,61
8. Anna Bjørklund Themsen - Pele's Samba - 64,91
9. Anja Bodé - Atterupgaards Valdemar - 64,30
10. Cecilie Fløgstad - Domingo Kilen - 64,12
11. Cecilie Lyndrup - Lambada - 63,77
12. Nanna Bronnée Madsen - Skjoldsgaard Monte Vo - 63,60
13. Camilla Hylager - Calexia - 63,60
14. Jens Østergaard - Hushnow - 63,33
15. Louise Lunde Pedersen - Royal Flush - 62,98
16. Christine Guldbrandsen Gert - Luciana - 62,11
17. Jens Østergaard - - 60,09
18. Anna Brockdorf - Mercuri-Bell - 60,09
19. Camilla Beck - Raffael For Ever - 59,74
20. Camilla Beck - L'Passo - 59,30
21. Nina Madsen - Leonardo B - 59,21
22. Michala Dahl Hansen - Engvangs Rocket - 56,58
23. Anne-Sofie Laudrup - Stenbrogårdens Fadroneur - 55,44
24. Anders Madsen - Damm - 55,26
25. Rikke Kortermann Hansen - Falcko - 54,47
26. Cecilie Stengelshøj Madsen - Laurentius - RET
Junior Riders - Kur to Music
1. Christine Möller - Wizard of Oz - 75,00
2. Cathrine Dufour - Don Dino - 74,17
3. Nanna Skodborg Merrald - Millibar - 72,33
4. Nanna Skodborg Merrald - JJ Rocco - 72,00
5. Charlotte Aarestrup Bruun - Tai Nin - 69,92
6. Nanna Bronnée Madsen - Skjoldsgaard Monte Vo - 68,50
7. Cecilie Lyndrup - Lambada - 68,00
8. Melina Iversen - Heslegards Lullu - 68,00
9. Anja Bodé - Atterupsgaard Valdemar - 67,25
10. Louise Lunde Pedersen - Royal Flush - 66,00
11. Cecilie Fløgstad - Domingo Kilen - 65,83
12. Silke Frederikke Fersner - Roché Royal - 65,75
13. Anna Bjørklund Themsen - Pele's Samba - 64,25
14. Camilla Hylager - Calexia Vibeholm - 62,25
15. Jens Østergaard - Hushnow Firfod - 58,58
Young Riders - Prix St Georges
1. Anna Kasprzak - Langkjærgaard´S Donna Fetti - 71,14
2. Rikke Sofie Bøllingtoft - Finale - 68,25
3. Anne Kathrine Elkjær-Holm - Rohmario - 68,16
4. Simone Ahlers Pedersen - Cavaler - 66,84
5. Anna Kasprzak - Miami - 66,67
6. Camilla Orloff - Utah - 66,40
7. Carina Nevermann Torup - Distinctive - 65,70
8. Louise Mølby - Niveau Stauslykke - 64,91
9. Anne Laursen - Brohavens Caesar - 64,47
10. Marie-Louise Larsen - Romar - 64,21
11. Kathrine Rasmussen - Don Pedro - 63,25
12. Carina Nevermann Torup - Kafelnikov - 62,28
13. Anne Sofie Aaen - Phantom - 61,05
14. Stinna Foldberg Nielsen - Fedaro Beloni - 60,96
15. Karina Holdt Andersen - Hot Shot - 60,53
16. Sandra Skodborg Merrald - Weltliebe - 60,26
17. Pernille Tonsgaard - Filur - 58,42
Young Riders - Kur to Music
1. Anna Kasprzak - Langkjærgaard´S Donna Fetti - 72,92
2. Rikke Sofie Bøllingtoft - Finale - 72,25
3. Anne Kathrine Elkjær-Holm - Rohmario - 71,67
4. Camilla Orloff - Utah - 70,50
5. Simone Ahlers Pedersen - Cavaler - 69,92
6. Carina Nevermann Torup - Distinctive - 68,33
7. Anna Kasprzak - Miami - 66,92
8. Karina Holdt Andersen- Hot Shot - 66,08
9. Kathrine Rasmussen - Don Pedro - 65,75
10. Marie-Louise Larsen - Romar - 65,33
11. Louise Mølby - Niveau Stauslykke - 64,83
12. Anne Laursen - Brohaves Caesar - 64,75
13. Anne Sofie Aaen - Phantom - 64,33
14. Carina Nevermann Torup - Kafelnikov - 62,17
15. Stinna Foldberg Nielsen - Fedaro Beloni - 61,50
Related Links
Tange, Skodborg Merrald, Elkjaer-Holm and Kasprzak Win 2009 Ecco Cup Finals
Skodborg Merrald, Tange, Dufour and Kasprzak Win 2008 ECCO Cup Finals
The Ecco Cup Prepares Danish Youth Riders for the International Show Scene