2010 World Championships for Young Dressage Horses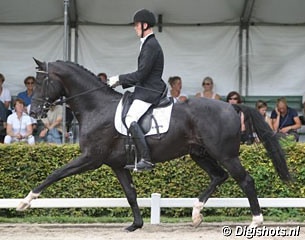 Two horses are out of the running to represent the Netherlands at the 2010 World Championships for Young Dressage Horses. At the second Dutch selection trial for KWPN horses at the KNHS Head quarters in Ermelo, The Netherlands, the 5-year old Angush failed to impress and the 6-year old Zorro was dropped from the long list.
The black stallion Angusch (by Special D x Jazz) was very tense in the second round and did not make the cut for the third trial. "During the first round he showed a super test," Van Silfhout said, "but yesterday he was tense and made a lot of mistakes because of that. They were jumping in the other ring and he was distracted by that. It's a pity but we keep on training. He's a really nice horse, still young and inexperienced."
In the 6-year old division Geert-Jan Raateland and Zorro (by Jazz x Contango) were scratched from the list and replaced by Hans Peter Minderhoud with Zizi Top (by Tango x Ferro), who were unable to attend the first trial.
The third selection trial is on Monday 26 April 2010. The combinations have to ride the preliminary test and afterwards are given training advice by Johan Hamminga.
Photo © Digishots.nl
Qualified 5-year olds
Aendolyn (Krack C x Donnerhall) – Vai Bruntink
Androdine (Sandro Hit x Rubinstein I) – Margreet Prosman
Anieni-K (United x Jetset D) – Margot Kostelijk
Anne Beth (Oscar x Corleone) – Vai Bruntink
Annerijke (Jazz x Gribaldi) – Jennifer Sekreve
Apache (UB 40 x Krack C) – Emmelie Scholtens
Aston Martin NL (Uphill x Cabochon) – Christa Laarakkers
Astrix (Obelisk x Olivi) – Emmelie Scholtens
Authentic (Furst Heinrich x Kennedy) – Joyce Lenaerts
Presidents Allright (Jazz x Royal Dance) – Laurens van Lieren
TC Athene (United x Jazz) – Jessica Buying
Qualified 6-year olds
Hunter Douglas Zan Tropez (Hemmingway x Boreas) – Pim Candel
Zamora (Krack C x Farrington) – Lynne Maas
Zarah (Oscar x Montecristo) – Lotje Schoots
Zecchino (Krack C x Vindicator) – Remy Bastings
Zico (Riant x Ferro) – Stephanie de Ruiter
Ziësto (Lancet x Clavecimbel) – Gerdine Maree
Zippo (Rousseau x Haarlem) – Patrick van der Meer
Zjengis Khan (Rousseau x Rubinstein I) – Nikki Schaap
Zolena (Sir Sinclair x Cabochon) – Annarein Kerbert
Zizi Top (Tango x Ferro) - Hans Peter Minderhoud
Related Link
Twenty-two Horses Selected at First Dutch Trial for 2010 WCYH