2010 Imperial Riding Cup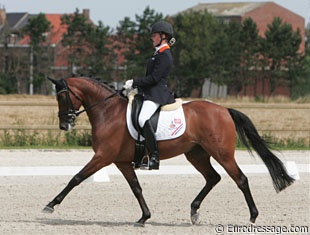 2009 Dutch Pony Team member Dana van Lierop is back in the winner's circle with her medal winning pony of last year, Equestricons Lord Champion (by Le Champion).
At the Imperial Riding Cup qualifier in Assen, Van Lierop scored 71,48% to beat current European pony champion Antoinette te Riele on Golden Girl.
The qualifier at Sunrise Stables in Assen was the fourth Imperial Riding Cup selection trial of the season. A maximum of 40 pony riders was present at this show to ride the team championship test. The Imperial Riding Cup competitions are also team selection trials.
Dana van Lierop and her second pony Wengelo's Ricardo (by Coelenhage's Purioso) slotted in third with 70,83%. Justine Mudde and her chestnut Wonderboy (by Dressman I) finished fourth.
Photo © Barbara Schnell
Results - 2009/2010 Imperial Riding Cup - Assen
| | | | | | | |
| --- | --- | --- | --- | --- | --- | --- |
| 1 | Dana van Lierop | Lord Champion  | 263 | 260 | 249 | 71,48% |
| 2 | Antoinette te Riele | Golden Girl | 257 | 262 | 247 | 70,93% |
| 3 | Dana van Lierop | Wengelo's Ricardo | 252 | 256 | 257 | 70,83% |
| 4 | Justine Mudde | Wonderboy | 243 | 254 | 238 | 68,06% |
| 5 | Michelle de Jonge | Hagelkruis Valentijn | 240 | 257 | 234 | 67,69% |
| 6 | Antoinette te Riele | Dynasty | 233 | 259 | 238 | 67,59% |
| 7 | Rachell Fokker | Orchard Boginov | 240 | 249 | 237 | 67,22% |
| 8 | Sanne Gilbers | Daylight | 246 | 232 | 246 | 67,04% |
| 9 | Suzanne van de Ven | Majos Cannon | 239 | 236 | 242 | 66,39% |
| 10 | Laila Smits | Oosteind's Rocco | 235 | 243 | 228 | 65,37% |
| 11 | Kaylee Gouda | Westerterper Silvan | 250 | 226 | 228 | 65,19% |
| 12 | Chiara Prijs | Mastwood Blackberry | 235 | 240 | 228 | 65,09% |
| 13 | Sanne Vos | Just You 'n Me | 236 | 245 | 221 | 65,00% |
| 14 | Jasmijn Linthorst | Wester Aikema's Adios | 232 | 241 | 221 | 64,26% |
| 15 | Jeanine Nekeman | Hoby | 234 | 240 | 219 | 64,17% |
| 15 | Lara Roozemond | No Angel | 234 | 242 | 217 | 64,17% |
| 15 | Lotte Meulendijks | Boticelli | 231 | 231 | 231 | 64,17% |
| 18 | Christien Kerbert | Cinderella du Bois | 234 | 227 | 230 | 63,98% |
| 19 | Danielle van Bergen | Oldebert's Kimberly | 234 | 227 | 226 | 63,61% |
| 20 | Julia van Schaik | Vitell W | 235 | 226 | 223 | 63,33% |
| 20 | Marjan Hooge | Mr. Matcho | 232 | 223 | 229 | 63,33% |
| 22 | Shelby Spierenburg | Der Harlekin B | 230 | 227 | 225 | 63,15% |
| 23 | Ashley Langevoort | Igor | 228 | 230 | 221 | 62,87% |
| 24 | Michelle de Jonge | JDJ's Keimpe | 230 | 228 | 215 | 62,31% |
| 25 | Jil Verbeek | Largos | 232 | 211 | 223 | 61,67% |
| 26 | Samantha van der Lof | Pb's Scofield | 230 | 212 | 222 | 61,48% |
| 27 | Chiara Prijs | Desperado | 230 | 218 | 215 | 61,39% |
| 27 | Annelie Hoekstra | Pop Star | 230 | 213 | 220 | 61,39% |
| 29 | Mandy van den Hoek | Leslie | 226 | 217 | 218 | 61,20% |
| 30 | Julia van Schaik | Coelenhage's Lorenzo | 213 | 223 | 221 | 60,83% |
| 31 | Sharon de Kok | Lady | 227 | 210 | 218 | 60,65% |
| 32 | Reece Fokker | Hogewald's Naziri | 224 | 220 | 206 | 60,19% |
| 33 | Cezanne Peerdeman | Tumberlane | 231 | 211 | 202 | 59,63% |
| 34 | Anna Mennes | Cherie | 222 | 211 | 210 | 59,54% |
| 35 | Romy Bemelmans | Westerhuis Bruno | 212 | 220 | 210 | 59,44% |
| 36 | Kristy Boshoven | Juranca's Calido | 215 | 216 | 208 | 59,17% |
| 37 | Iris Dozeman | Lars | 224 | 200 | 200 | 57,78% |
| 37 | Mandy van den Hoek | Voorwijk's Celeste | 217 | 203 | 204 | 57,78% |
| 39 | Femke Smit | The Boy | 215 | 206 | 201 | 57,59% |
| 40 | Lonneke Vaessen | Canto TG | 0 | 0 | 0 | Irre |
Related Links
Te Riele One and Two at the 2010 Imperial Riding Cup Qualifier in Uden
Dynasty Makes Regal FEI Show Debut in Emmeloord 
Te Riele Wins First Qualifier of 2010 Imperial Riding Cup in Weert