Greatest Oldies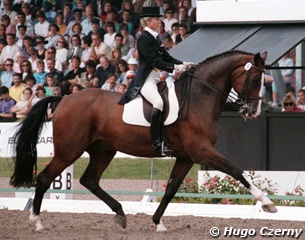 In 1988 a girl, barely 11, knowing nothing about dressage and just loving horses like many other children, saw dressage at the Seoul Olympics on television with her father. She liked it, but became completely fascinated by this equestrian discipline when she saw a huge bay horse with a lot of white.
It seemed not really to touch the ground whatever it performed, which was so strange to this young girl.
Corlandus, the horse which led to my love for dressage over 20 years ago, united unequalled power, elegance and expression. It is not his remarkable success, but the appearance itself and the personality he expressed that made Corlandus undoubtedly one of the greatest dressage horses ever.
The Holsteiner horse, bred by Hermann Kruse, was born in April 1976, the year the Holsteiner Granat won an Olympic gold medal in dressage. The bay colt was the offspring of Gustia, a quality bay mare by Landgraf I and her dam's father was the great Consul, Granat's sire. Corlandus sire was the now legendary imported Anglo-Norman Cor de la Bruyère, son of the thoroughbred Rantzau xx. Even in the 1970s this combination of bloodlines seemed to promise success in the show ring, though maybe rather in jumping than dressage.
Corlandus developed into a huge leggy gelding, standing 1,80 metres, and the outstanding quality of his gaits made him suitable for dressage, which still isn't favoured in Holstein, although the breed society produced horses like Antoinette, Venetia, Waldfee and Granat before. Probably because Corlandus' conformation wasn't completely ideal he was gelded despite his other qualities. But his 1980 born and single full brother Cabaret was approved and went on to become the foundation sire of the famous Hilltop Farm in the USA. He also competed at Grand Prix level with Scott Hassler and became influential on the warmblood breeding in North America.
Corlandus came into the capable hands of Peter Mohr and the youngster qualified for the 1981 Bundeschampionate, where he was given a justified 10 for his fairytale canter.
On his way to Munich, where the Bundeschampionate were then located, Corlandus had a stop-over at the CHI Donaueschingen and there Margit Otto-Crépin met him for the first time.
At the time Margit was at the beginning of her international dressage career. Born in Saarbrücken she had married a Frenchman in the 1970s and competed for France ever since. In the early 1980s she was a familiar face on the circuit and competed on an elegant Selle Francais gelding called Caprici, a tough former three-day-eventer. Margit recalls she was in the collecting ring at Donaueschingen when she heard Corlandus from the street in the park: "I just had to look and then Corlandus "appeared", in the proverbial sense of the word. I was fascinated because of his expression, his presence and his obviously funny character." Margit fell in love straight away and wanted to buy the Holsteiner talent immediately, but she had to wait for nearly two years to realize her dream.
Corlandus was not for sale in 1981 and went to the USA to promote the Holsteiner breeding association. He came back much later than planned and was 7 years old when Margit finally got him, not long before Christmas 1983. According to her Corlandus was hardly S- level so she concentrated to upgrade him to Prix St. Georges level over the winter and succeeded. In 1984, the year Corlandus' predecessor Caprici enabled Margit to take part in the Los Angeles Olympic Games, the Holsteiner was successfully shown at small tour level.
Corlandus never found anything particularly difficult to learn or perform, but he turned out to be a horse with a very special character, which sometimes led to difficulties. He was strong willed and proud and hated to be dictated too much by a rider. But Corlandus was very lucky to have Margit, who is well known for the fact she allows all her horses a certain kind of freedom and keep their characters. Maybe with Corlandus it was the only way to succeed for a tiny woman like her: to make compromises and let the horse give, because Margit would never have been able to dominate him physically.
Like almost all successful riders Margit had help, but unlike others she wasn't that focused on one special trainer. She had help from many famous ones and during the time with Corlandus she first trained with the legendary Fritz Tempelmann, whose pupil Norbert van Laak took over. Van Laak, a renowned trainer and Grand Prix rider today, was then only in his 20s, but the trio proved to be very successful.
Corlandus started his championship career at the 1985 European Championships in Copenhagen in his first year at Grand Prix. Not surprisingly he was still too inexperienced to be a serious rival for the best horses, but he managed to place in the top 20.
1985 was the year Corlandus got a new groom. Young Nathalie Kock joined Margit's stable and stayed there ever since. She groomed the Holsteiner gelding throughout his career and contributed an undeniable part to his well being, important for every top horse to stay at the top of the game.
A year later the horse had improved and matured and was among the favourites at the 1986 World Championships in Canada. He thrilled the crowds in the "preliminary" test, the Inter II, and won. But the probably most athletic and talented horse in Cedar Valley suffered from the ever changing weather there and this was probably one reason why he didn't manage to perform completely faultless, though he finished in a still remarkable 6th place individually. There seemed no doubt that his day was to come and it did only a year later.
Corlandus, whom Margit describes as "a horse for which average was a non existent word and which was extraordinary from head to hoof" won at CDI Schoten and at CDIO Aachen and went to the European Championships at Goodwood as the favourite. His overall quality, his expression and the way to move with so much power yet at the same time so lightfooted were superior to his rival Gauguin de Lully CH. But Gauguin was usually a reliable horse whereas Corlandus was always able to put in one or two bucks to show his well being or what Margit calls his "funny side".
So in Goodwood Gauguin won the Grand Prix just one point ahead of the great Holsteiner. But in the individual competition Corlandus excelled, a prime example of a dressage horse. He seemed to enjoy his own movements and especially his wonderfully sitting piaffe, every step in rhythm and with unique elasticity. Corlandus made his rider the first European Champion for France and brought Holstein the first individual title in dressage since 1977.
After Goodwood Margit seemed to be able to continue a very old tradition of French success in Olympic dressage, as it had been interrupted for decades.
Much has been written and said about the 1988 Dressage Olympics. It caused a little revolution in different aspects and it increased the popularity of this sport for its sake, no doubt. The competition was the duel of two very outstanding horses, both blessed with movement, elasticity, lightfootedness and the utmost expression a horse can own.
Corlandus was the more collected horse in the passage, the piaffe and the pirouettes and his extended walk was of a high quality whereas Rembrandt showed the better extensions and moved even a bit more fluently. Both of these great horses had their mistakes in a rather noisy stadium like many other horses, so it was up to the judges which horse to prefer.
In the Grand Prix Corlandus was only 3 points behind his rival, three judges put him first whereas Rembrandt was seen in first place by only two judges. In the Special the result was clearer, Rembrandt won nearly 60 points ahead of Corlandus. The latter had the disadvantage like two other horses to compete during a time of day when the sun was sinking and produced a shadow which irritated the horses, unfortunately also Corlandus. 
The individual silver medal in Seoul was an achievement, also for French dressage, but Corlandus would have been a dignified Olympic Champion, too.
Not long after the return from South Korea Corlandus wrote another kind of history at the Stuttgart indoor show. Together with his Olympic companions Gauguin de Lully CH and Ahlerich he performed an unforgettable "pas de trois" as a farewell for the latter from the sport. Three great horses of their time really danced in front of an enthusiastic crowd.
From Stuttgart Corlandus flew directly to New York to show a freestyle in the famous Madison Square Garden every evening during the show jumping show there. Whereas Ahlerich retired at the age of 17 Gauguin, a double World Cup winner, and Corlandus went on to meet each other in the spring of 1989 as rivals in the World Cup Final at Gothenburg. There the bay gelding put in one of his breathtaking performances he was able to give. To classical music, very different to the one Margit used seven years later when finishing 2nd on Lucky Lord, Corlandus really danced and wowed the Swedish crowd.
Later that year the title defender earned an individual silver medal at the 1989 European Championships in Luxemburg behind Rembrandt.
At the first World Equestrian Games in Stockholm in 1990 Corlandus appeared with a fascinating expression, but lost the individual bronze medal by only two points to the Westfalian Ganimedes. In 1991 Corlandus had luck on his side and took the individual bronze by a similar margin from Louise Nathhorst's Dante at the European Championships at Donaueschingen. It was his 5th and last individual international championship medal.
Though he had won so many medals Margit surprisingly doesn't name one of these as her most meaningful success with her greatest horse ever. It was the first Grand Prix in which she broke the 1800 points barrier with Corlandus: "I never thought it could happen to me!"
In 1992 Corlandus was well placed at the CDIO Aachen and was intended to compete at the Barcelona Olympics, but he wasn't allowed to start. He finished his career to enjoy a long and happy retirement like all of Margit's horses, later on together with his successor and friend Maritim, a former Verden auction horse. First Margit kept him in her yard and Corlandus was still ridden, but later she gave him to a befriended breeder, where Corlandus went to the fields daily with Margit's other retired horses and enjoyed the special treatment a horse like him truly deserved.
In 2001 Corlandus was 25. One day he just lay down and didn't want to stand up anymore so he was put down to sleep. He will be alive forever in the memories of everybody who saw him and couldn't be but touched by this unique horse.
To Margit "Corlandus will always have a place in my heart and this has nothing to do with his success. I had the privilege and the incredible luck to own such an extraordinary horse. To me he was, is and will remain unique forever."
Article by Silke Rottermann
The author likes to thank Margit Otto-Crépin for her help in writing this article.
For more detailed informations of Corlandus' performances see:
R. Klimke / Deutsche Reiterliche Vereinigung (publisher), Olympia der Reiter Seoul 1988, FN- Verlag, Warendorf 1988 (in German, out of print, available second hand)
R. Klimke, W. Ernst, Deutsche Reiterliche Vereinigung (publisher),
Olympia der Reiter Barcelona 1992, FN- Verlag, Warendorf 1992
(in German, out of print, available second hand)
Full brother Cabaret at Hilltop Farm 
Photos © Hugo Czerny - No Reproduction Allowed!!
Related Links 
History of the European Dressage Championships
Greatest Oldies: Dutch Courage, a Pioneer for British Dressage
Greatest Oldies: Dutch Gold, Like Father Like Son
Greatest Oldies: Dr. Reiner Klimke's Ahlerich
Greatest Oldies: Nicole Uphoff's Rembrandt: A Living Work of Art
Greatest Oldies: Limandus, The Happy Athlete
Greatest Oldies: Keen xx, Pioneer of American Dressage
Greatest Oldies: Dynasty, A Horse Who Lived Up to His Name 
Greatest Oldies: Marzog, King of Suppleness