What's Happening in the Dressage World?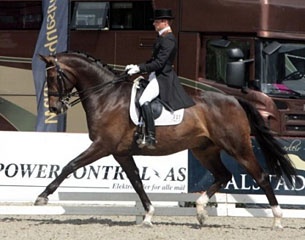 The Dutch equestrian media massively reported on the appointment of Norwegian Jonas Elvebakk as the new in-house rider at Edward Gal and Hans-Peter Minderhoud's stable in Harskamp, The Netherlands.
 Gal and Minderhoud ran an advertisement on Eurodressage.com seeking for a rider and then received more than 80 applications over a two month period. Elvebakk is a Grand Prix level rider and is competing his own Danish warmblood Cartier (by Blue Hors Cavan). "Jonas fits really well in our team and is a super rider," Edward and Hans-Peter reported on their website. "We are very happy to have him as an addition to your team."
Photo © Ridehesten.com
Fran Goodsell of Auction-Connection.de will be in Florida as an official U.S. representative of the Westfalian Verband. Fran will be promoting the Westfalian Elite Auction, as well as the Classic Sales Warendorf auction at his booth at the Jim Brandon Equestrian Center in Wellington on 12-14th February 2010. Feel free stop by and view (and pick up) videos for the Westfalian collection and the Classical Sales Warendorf collection.
By the way, American best selling author and Grand Prix dressage rider Tami Hoag has a new book out, Deeper Than the Dead. Two characters in the book are fictionalizations of real life persons. Hoag features a character named Jane Thomas, based on a real life person of the same name – Jane Thomas, daughter of Peggy and Parry Thomas, owners of Olympic dressage horse Brentina. Thomas earned the unique opportunity to become part of a Hoag novel when she bid $20,000 and won the chance at a fundraiser last year at a United States Equestrian Team Foundation auction. The "Franny" character in the book is supposedly based on Fran Goodsell, who discovered Coco Chanel for Tami in Germany.
Despite all the doping turmoil, three more riders have been caught on doping as announced by the FEI. Two horses tested positive to fluphenazine, the banned substance that was also detected in Isabell Werth's Whisper and for which Werth got suspended for half a year. At the World Cup qualifier in Verona (November 2009), Italian rider Giula Martinengo Marquet's jumper Chammartin tested positive to it. At the CCI*** in Cameri, Italy, Italian rider Alberto Basilico's Freddie's Star was also positive. The third positive doping case involves American show jumper Margie Goldstein's mare Hidden Creek Campella. She tested positive to medication Hydrocortisone at the CSI-W Lexington.
Eurodressage tuned in with Victoria Max-Theurer on Augustin's recovery from colic surgery, which her number one Grand Prix horse had to undergo mid November 2009. "After the operation I was a quite sad and at the end of the year my old pony got problems with his lungs so we had to put him down 31st December," a sad Vici told Eurodressage. "It was a heavy end of the year, but I hope the new one will bring lots of health and pleasure for all of us. We want to give Augustin all time he needs to be fully recovered! I'm really looking forward to enter the ring for our first competition again, but it will take some time!" We wish Vici's Augustin a speedy recovery!
With Adelinde Cornelissen's popularity rising each day, she is getting more and more horses offered to ride. The latest addition to her stable is the young Brentano, a liver chestnut KWPN stallion by United x Jazz x Ulft. 
Cornelissen also announced that she won't be competing at the CDI-W Amsterdam. "At this moment Amsterdam doesn't fit into my schedule. I'd love to ride there. It's a great show and it's in my own country but it's not on the right time in Parzival's training schedule. In Mechelen, Parzival stuck his tongue out because hehad built up so much tension. Last year in Amsterdam he was also so tense that I couldn't finish the test. So it seems better to me to change my schedule so I that I can give Parzival his confidence back in the ring at the next competitions."
But don't be sad, Edward Gal announced that he'll be competing Totilas in Amsterdam! Plenty of reason to travel to the Dutch capital for some top level dressage! And..... Anky van Grunsven has confirmed that she'll be taking her top horse Salinero to Florida for the World Dressage Masters in Wellington in February!
Kyra Kyrklund sent us somepostcards from her Snow Hill Farm in England, which is snowed in. "Even more snow today," she said. "This is amazing, like being back in Finland. Actually I quite like it if the traffic here wouldn't be such a mess. All grooms are back in full swing and we are sooo pleased we have an INDOOR school."
Blue Hors stallion station announced that their German bred black stallion Blue Hors Doolittle(by Don Schufro x Lauries Crusador xx) will no longer be standing at stud. The five year old became the Danish Warmblood Licensing Champion and was winner of the 35-day stallion performance test. He produced 131 registered Danish foals after his first year of breeding. Esben Moller, manager of Blue Hors, told Ridehesten that theypulled Doolittle off their breeding roster based on that first crop of foals."Doolittle's foals were in general not of the quality we had hoped for and we have a big stallion collection at Blue Hors and only want the best of the best. This is in the interest of the breeders and stallion stations themselves has to pick the stallions and keep the standard at a high level." The reason of this decision was that many of the Doolittle foals had problems with the conformation.
Belgium's renowned water colour painter Xavier Swolfs has made aseries of water colours of polo horses. His work has been featured at international exhibitions in Europe, including the International Water Colour Festival, held every four years in Belgium. He is considered to be one of the best water colour artists in Europe and his work displays an outstanding technique and colour use. His paintings make a perfect present for polo lovers and he accepts commissions. Check him out at www.xavierswolfs.com
The Trip Harting Fund has been established through The Dressage Foundation to award a scholarship for a Pony Club A or B members. This scholarship is to help a young person pursue their education in dressage; the award will honor Trip's lifetime commitment to youth in dressage and his love of Pony Club. Trip Harting was one of the leading judges in the world of dressage horse riding and formally one of the top ten horse riders in the world. He passed away on August 21, 2008, in Los Angeles, CA, at age 62. Trip was a beloved judge and competitor and clinician; always going out of his way to help anyone who needed encouragement. As the head coach for the U.S.Pony Club Trip had a special fondness for helping young riders. You can read more specifics about the fund and Trip's accomplishments by accessing The Dressage Foundation website.