2010 Imperial Riding Cup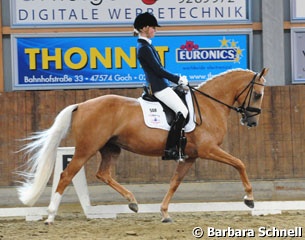 Antoinette te Riele made a regal show debut with her new FEI pony, the 6-year old German Reitpony mare Dynasty (by Deinhard B x Arts Dancer Boy) at the Imperial Riding Cup qualifier in Emmeloord, The Netherlands, January 17, 2010.
Owned by Sven Rothenberger, Dynasty was previously trained and competed by junior rider Sanneke Rothenberger who gave the ride on this fantastic palomino to her cousin a few months ago after the Bundeschampionate.
The Emmeloord qualifier was the second leg in the 2010 Imperial Riding Cup and was hounded by poor weather conditions. Te Riele and Dynasty finished second with a strong score of 73,52%. The winner of the class was 16-year old Maria van den Dungen.
"He went super well. We even got a nine for one shoulder in. The entire test went really smooth, without mistakes," said Te Riele. "The half passes were beautiful and I got nice points for the simple changes. I'm now going to train further with Coby van Baalen to finetune everything even more."
Jasmijn Linthorst has been on the rise with her Wester Aikema's Adios. Trained by Hans and Cora Arends, Linthorst is gradually climbing the ladder and this time scored 69,07% on her pony schoolmaster. Sanne Gilbers and the former Bundeschampionate finallist Daylight landed fourth place with 68,33%.
Photo © Barbara Schnell
Results - 2009/2010 Imperial Riding Cup - Emmeloord
| | | | | | | | |
| --- | --- | --- | --- | --- | --- | --- | --- |
| 1 | Maria van den Dungen | Rembrandt DDH | 278 | 280 | 271 | 829 | 76,76% |
| 2 | Antoinette te Riele | Dynasty | 271 | 255 | 268 | 794 | 73,52% |
| 3 | Jasmijn Linthorst | Wester Aikema's Adios | 256 | 246 | 244 | 746 | 69,07% |
| 4 | Sanne Gilbers | Daylight | 238 | 243 | 257 | 738 | 68,33% |
| 5 | Christien Kerbert | Cinderella du Bois | 248 | 239 | 246 | 733 | 67,87% |
| 6 | Chaira Prijs | Mastwood Blackberry | 245 | 248 | 239 | 732 | 67,78% |
| 7 | Michelle de Jonge | Hagelkruis Valentijn | 239 | 250 | 239 | 728 | 67,41% |
| 8 | Chaira Prijs | Desperado | 234 | 246 | 246 | 726 | 67,22% |
| 9 | Jeanine Nekeman | Hoby | 234 | 232 | 235 | 701 | 64,91% |
| 9 | Marjan Hooge | Mr. Matcho | 229 | 236 | 236 | 701 | 64,91% |
|   | Julia van Schaik | Vitell W | 232 | 235 | 231 | 698 | 64,63% |
|   | Mandy van den Hoek | Leslie | 238 | 232 | 228 | 698 | 64,63% |
|   | Sanne Vos | Just You 'n Me | 244 | 220 | 233 | 697 | 64,54% |
|   | Amy van Dijk | Neptune | 230 | 228 | 239 | 697 | 64,54% |
|   | Rachell Fokker | Orchard Boginov | 222 | 227 | 245 | 694 | 64,26% |
|   | Merel Hooijer | New Danger | 227 | 234 | 231 | 692 | 64,07% |
|   | Ashley Langevoort | Igor | 231 | 230 | 228 | 689 | 63,80% |
|   | Shelby Spierenburg | Der Harlekin B | 225 | 231 | 229 | 685 | 63,43% |
|   | Jasmijn Linthorst | Pegasus B | 231 | 236 | 214 | 681 | 63,06% |
|   | Bengt Snijders | Anjershof Memorie | 222 | 229 | 227 | 678 | 62,78% |
|   | Laila Smits | Oosteind's Rocco | 226 | 225 | 226 | 677 | 62,69% |
|   | Iris Dozeman | Lars | 224 | 227 | 224 | 675 | 62,50% |
|   | Sharon de Kok | Lady | 222 | 230 | 216 | 668 | 61,85% |
|   | Julie de Baerdemaker | Quidam vh Bovenhoekshof | 226 | 218 | 211 | 655 | 60,65% |
|   | Marieke Versluis | Vivaldi | 214 | 228 | 210 | 652 | 60,37% |
|   | Lisanne Verkerk | Delpiero | 212 | 208 | 228 | 648 | 60,00% |
|   | Kaylee Gouda | Westerterper Silvan | 214 | 217 | 217 | 648 | 60,00% |
|   | Femke Smit | The Boy | 212 | 218 | 215 | 645 | 59,72% |
|   | Alexandra Delemarre | Easy Dancer | 210 | 211 | 215 | 636 | 58,89% |
|   | Reece Fokker | Hogewald's Naziri | 211 | 214 | 207 | 632 | 58,52% |
|   | Nicole van Niedek | Nandu | 213 | 207 | 206 | 626 | 57,96% |
|   | Naomi Veenhuizen | Pivo | 209 | 209 | 207 | 625 | 57,87% |
|   | Kristy Boshoven | Juranca's Calido | 208 | 206 | 203 | 617 | 57,13% |
|   | Shanna Lust | Anjershof's Pablo | 207 | 202 | 206 | 615 | 56,94% |
|   | Lara Roozemond | No Angel | 202 | 208 | 199 | 609 | 56,39% |
|   | Cato Hemels | Vincent | 203 | 201 | 195 | 599 | 55,46% |
|   | Cezanne Peerdeman | Tumberlane | 196 | 191 | 200 | 587 | 54,35% |
|   | Jill Verbeek | Largos | 192 | 180 | 193 | 565 | 52,31% |
Related Link
Te Riele Wins First Qualifier of 2010 Imperial Riding Cup in Weert