2009 Pacific League World Cup Finals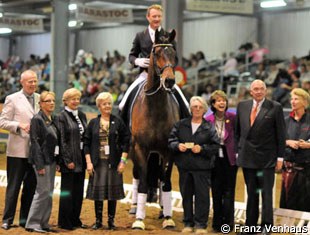 Australian Dressage Champions Brett Parbery and Victory Salute won the Pacific League World Cup Final on Saturday night at the Saddleworld Dressage Festival, Werribee, Australia.
The pair has now earned the right to represent Australia at the World Cup Final in 's-Hertogenbosch (NED) in March 2010. They have also bettered their position for team selection for the World Equestrian Games to be held in Kentucky in September next year. They received excellent scores in the freestyle test from the international judges, scoring 75.300%, with 78.250% from Uwe Spenlen (GER) and 77.250% from Australia's Susie Hoevenaars.
"There is still more there – I am still holding him back a little in the arena to keep everything very regular, try and get a 7 or an 8 for every movement. That has been my plan all year, consolidate everything for a 7 and then try to find where I can get some 8s as well. You just can't afford to get 8s and 4s," said Brett in reference to his performance.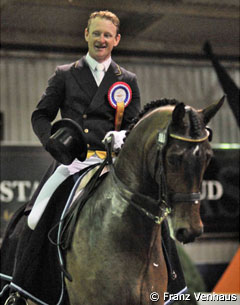 Brett is still deciding if he will go to the World Cup Final and says there is a lot to consider. "If we go we would need to leave the horse overseas in Germany, Holland or the US until the World Games in September. I am not sure which place would benefit our campaign the most. Then there are the financial issues and our own business to consider." To add to the mix Brett and his wife Mel are also expecting their first child in May. "Next year is busy," laughs Brett.
"My whole goal is to try and cement in the minds of the Dressage community, firstly to myself but then to the international judges and public that we are a solid 70% and above combination – the question is how best to do that considering our training plan and of course budget."
"I don't feel I need to find a special trainer overseas. I am happy working with Caroline [Lieutenant, owner of Victory Salute]. That has been working well for us, Caroline has been fantastic - she is an owner, sponsor and trainer in one! At this point I do not feel I need to learn my craft from a trainer, it is now about fine tuning. I benefit from watching other top riders and taking in new ideas that way, or through a discussion," added Brett.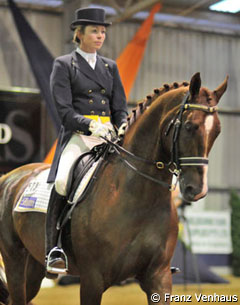 In second place was 2000 Olympian Rachael Sanna riding Bev Edwards' Jaybee Alabaster. Rachael was eager to show what they could do after missing the Australian National Championships in October. At 10-years-of-age Alabaster is still young for the Grand Prix level and he is constantly improving.
"I was very pleased with him. There were a few mistakes but that did not take away from how happy I am with the horse, it was a really good result," said Rachael.
2008 Olympic reserve Rozzie Ryan was impressive on her up-and-coming star Jive Magic to claim third place with 68.700%. Husband Heath Ryan, who won this event last year and represented Australia at the World Cup Final in Las Vegas in April, finished in fourth place on Regardez Moi.
Photos © Franz Venhaus
View full CDI-W Werribee scores
Back to the 2010 World Cup index