Hanoverian Auctions in Verden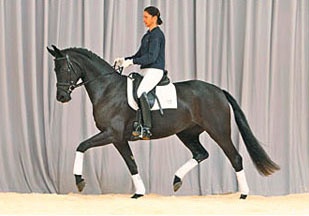 The first Hanoverian riding horse auction in the Hessen Horse Centre Alsfeld proved to be very successful. Auctioneer Friedrich-Wilhelm Isernhagen sold 27 horses at the first Alsfelder Advent at an average price of 11,466 euro.
The typey black mare Dark Magic by Danone x Wolkenstein (breeder and exhibitor: Konrad Böth, Weimar-Niederwalgern) was the top-priced horse of the day for which customers from Great Britain paid 30,000 euro. The eagerly moving three-year-old state premium candidate successfully represented the Hessen Regional Breeding District at the Herwart-von-der-Decken-Show in Verden, too.
Second most expensive horse was the Hanoverian mare For Hessia by For Keeps x Fighting Alpha (breeder and exhibitor: Georg Schäfer, Alsfeld-Elbenrod), sold for 21,500 euro to North Rhine-Westphalia.
A total turnover of Euro 309,1000 was achieved, six riding horses were sold abroad and will now be trained in the USA, France, Great Britain and Hungary.
Dr. Werner Schade, Breeding Manager and Head of the Hanoverian Society, took stock after the auction and said: "This positive debut revealed that there is a lot of potential for auction events in Alsfeld, and the Hanoverian Society will increase and develop this potential for its breeders. The positive outcome is the result of the successful co-operation between the Hessen breeders and the Hanoverian Society within the last five years." Gerhard Senckenberg, head of the Hessen Regional Breeding District, was also completely satisfied with the premiere. "This auction had a wide variety of horses of high quality, which were perfectly presented by the riders. This kind of superb presentation is always a welcome sight at the auctions."
Photo © Tammo Ernst
More Hanoverian Auction News on Eurodressage